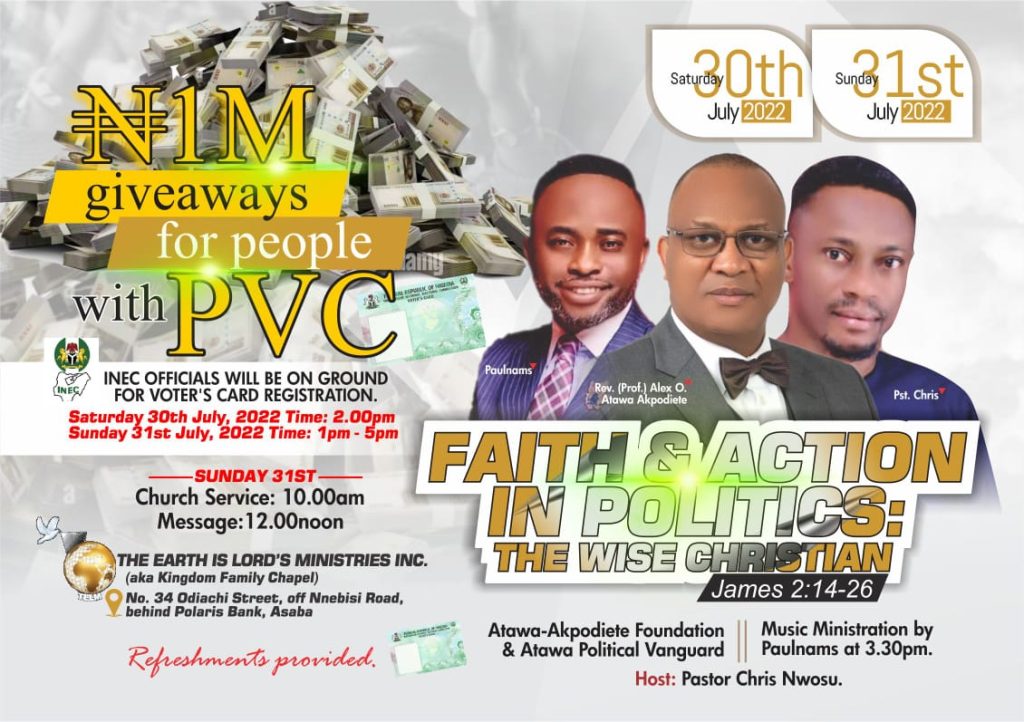 By Victor Bieni, Asaba
Delta born USA based Professor of Cyber Security,Media Guru, astute Politician, Cleric, Professor Alex Osondu Atawa Akpodiete has said that he will splash the sum of One Million Naira (N1M) to eligible voters, or those ready to get themselves registered and revalidated for their PVCs before the INEC's July 31st deadline. He declared open operation show your Permanent Voters Card (PVCs) in Delta State.
Prof Alex Osondu Atawa Akpodiete made this remark in a telephone chat today, Wednesday, 27th day of July, 2022 with our reporter, and urged christians to be wise even as he tasked tnem on combination of faith and action In Politics.
Professor Alex Atawa Akpodiete, the Founder/Chairman/Convener of Atawa-Akpodiete Foundation, Atawa Political Vanguard is also the Publisher/Editor-in-chief, Politics Governance Magazine (Online Media), and Vital Newspaper. The Professor of Cyber Security and cyber forensics urged Deltans and electorates to come with their PVCs, get themselves registered and revalidated. He added that they should take advantage of the exercise scheduled to take place on Saturday, July 30th from 10am to 2pm and Sunday, July 31st from 1pm to 5pm. The regular church service is at 10am with an afternoon music program also at 3:30pm.
According to the University DON, there will be refreshments and N1M giveaways for people with PVCs as the officials of Independent National Electoral Commission (INEC) will be on ground both days for the Voters Card Registration. The event will take place at a popular Asaba Church with host Pastor Chris Nwosu and Music Minister Paunams performing. The given venue: "The Earth Is The Lord's Ministries (Aka Kingdom Family Chapel), No. 34, Odiachi Street, Off Nnebisi Road, Behind Polaris Bank, Asaba".
In his words: " Christians should be wise. They should get themselves registered and revalidated, collect their PVCs to combine faith and action in Politics. This program is anchored by my Foundation, Political group in conjunction with the church to encourage christians. I have made preparations for over One thousand persons (1000). I use this medium to invite Deltans, electorates to take advantage of it towards Political and increased PVC's revolution in Delta State, and Nigeria in general".