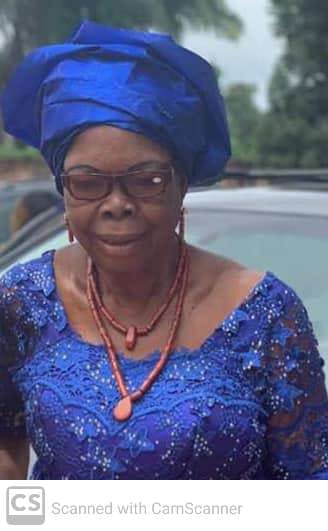 …As Family Mourns the transition To Glory of Late Elder Dcns Rose Irenosen.
By Victor Bieni, Asaba
The ICT Director, and Professor of Mathematical Physics, Igbinedion University, Okada, Dr. Raphael .E. Asibor has announced the death of their beloved Mother, Sister, Grandmother Late Dcns Rose Irenosen Asibor.
In a press statement made available to some group of Journalists today being on Sunday, 19th June, 2022 in Asaba, Delta State capital mourned the demise of his beloved mother as he described the late mother as a devout Christian, Community leader, astute administrator, conflict manager and a caring mother.
Dcns Rose Irenosen Asibor before her demise on Thursday 16th June 2022 was a
retired Principal Education Officier. She had taught in various schools including Ogo-Ikilibi Primary School, Utagba Uno and later to the then prestigeous Estate Secondary School, Farm Settlement, Utagba Uno, and Efandion Secondary School, Efandion Uromi amongst others where she rose to the position of Senior Education Officer.
Dcn Rose Irenosen Asibor hail from Idumoza Ewoyi Uromi and married to Chief Henry Oseyomon Asibor of Idune Efandion Uromi. She was aged 82 years.
The press statement by Dr. Raphael Asibor reads in parts: "TRANSITION INTO GLORY – Elder (Dcns.) Rose Irenosen Asibor, nee Ugege aka NO CASE 1. It is with deep sorrow and a heavy heart but with strong Christian hope that we announce the death of our mother, sister, inlaw, grandmother who had gone home to be with the Lord".
"May the Lord God Almighty grant eternal rest to Elder Dcns Rose Irenosen Asibor as we console ourselves with the assurance of our Christian faith in the resurrection of Christ be and our hope of resurrection".
" May Holy Spirit intercede for her and all who grieve at her death. The funeral arrangements will be communicated as soon as it is concluded. Meanwhile let us all continue to offer Prayers for the repose of her soul and the consolation of all who mourn especially her family".