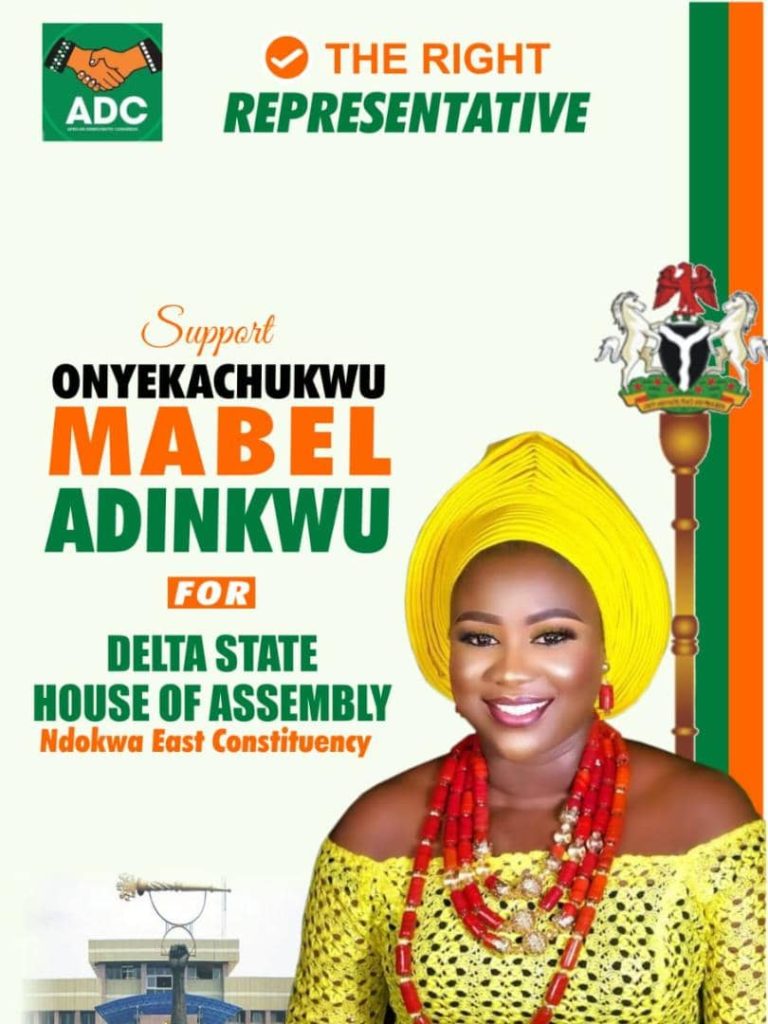 By Victor Bieni, Asaba
The Candidate of African Democratic Congress (ADC) for the forthcoming Delta State House of Assembly 2023 general elections, Ndokwa East Constituency seat, Onyekachukwu Mabel Adinkwu has said that, she is endowed, driven by vision, commitment and capable of promoting the needed representation of the good people of Ndokwa East Constituency come next year's elections, if she clinches victory as the business of Legislation requires intellectual tools.
Onyekachukwu Mabel Adinkwu made this disclosure today being on Friday, 17th June, 2023 in a media chat with our reporter in Asaba, Delta State capital as she stated that she is prepared to handle legislative work and promote effective and efficient representation of people in the red chamber.
The future lawmaker told the media that she will initiate legislations that will boost Youths and Women employment and employment opportunities, infrastructural and human capital development as well as make laws that are capable of impacting positively on her constituents, the masses especially the grassroots populace and the generality of Deltans if she is give the opportunity, mandate to serve her people.
In her words: "The business of legislation is intellectually demanding. This is why we must give consideration to the individuals who have the intellectual capacity to do the job. By the grace of God, I am armed with intellectual tools to adequately handle the demands of legislative work".
"At the moment, we need a representative with intellectual capacity driven by a profound vision and high level commitment to the common good of the people of Ndokwa East Constituency. In me, Ndokwa East Constituency has the certainty of excellent representation. I appeal to our people to support Onyekachukwu Mabel Adinkwu for Delta State House of Assembly, Ndokwa East Constituency seat".
She then appealed to the people of Ndokwa East Constituency to vote her enmass, give her the needed support to win the election come next year's general elections.