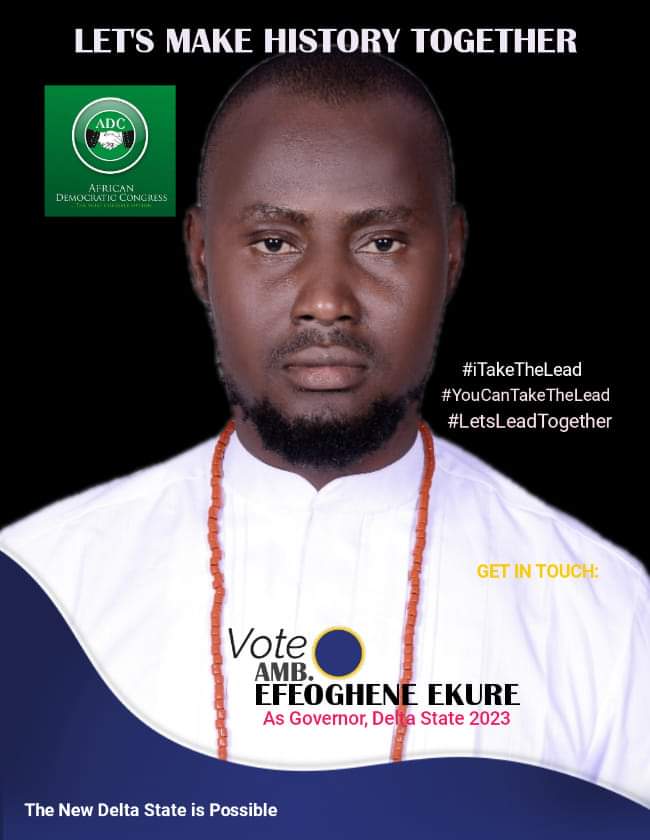 Delta 2023: Sheriff, Edevbie, Gbagi, Omo Agege, Ogboru, Others Will Join Me To Celebrate On May 29, Says EFE EKURE.
…… As Renowned African Youth Leader, Ambassador EFE EKURE Says, "He Is The Race To Win Governorship Elections In Delta"
By Victor Bieni, Asaba
The Youngest Governorship Candidates in Delta State and Nigeria in general for the 2023 general elections running under the platform of African Democratic Congress (ADC), Amb. EFE EKURE has made shocking revelations that those regarded as political heavyweights in the state who are candidates of other political parties will join him to celebrate comes next year May 29th, 2023.
Ambassador EFE EKURE made this remark this morning, today being on Friday, 29th July, 2022 in a press conference he organized to brief the media why he is the most preferred Governorship Candidates in Delta State for the forthcoming 2023 general elections as he told some group of Journalists in Asaba, Delta State capital that he is in the race to win.
Ambassador EFE EKURE, a Deltan and Urhobo born renowned African Youth Leader stated that he his "YOU Agenda" policy to all Deltans which he unfolded in the recent media briefing in Asaba is all about Deltans, the people, "YOU" and the Society. He said:
"My Campaign Manifestos is centered on YOU and the 3rd Generation which is the bright future of our Children and our Beloved State".
According to the globally acclaimed Youth leader, EFE EKURE's "YOU AGENDA" policy for all Deltans included amongst others: Y, stands for- Youth and Women Empowerment, O, stands for- Organization of a working Economy, Social Security And Infrastructural Development, And finally U stands for-Unity, Security And Peaceful Co-existence enshrined for a better living amongst Deltans, which he said represents the minds of the masses towards sustainable development.
Delta ADC Guber Flag-bearer while appealing to Deltans to join him to make history together, stated that Delta Gubernatorial Candidates whom he regarded as his big brothers, the likes of Chief Sheriff Oborevwori, David Edevbie of PDP, Kenneth Gbagi of SDP, Ovie Ono-Agege of APC, Great Ogboru of APGA and others will join him to celebrate the new dawn in Delta as the David of this generation.
AMB EFE EKURE, then appealed to Deltans to work for him, join him to make history together as he reaffirmed his commitments in making Delta State great if elected to govern the State come 2023. According to him, no force under the sun can stop the fresh air that he is about to bring to Delta State.
In his words: "Nothining can stop the vision and the handwork of God. I' m the David of this generation and the Lord God of Israel is working through me. Let's make history together".