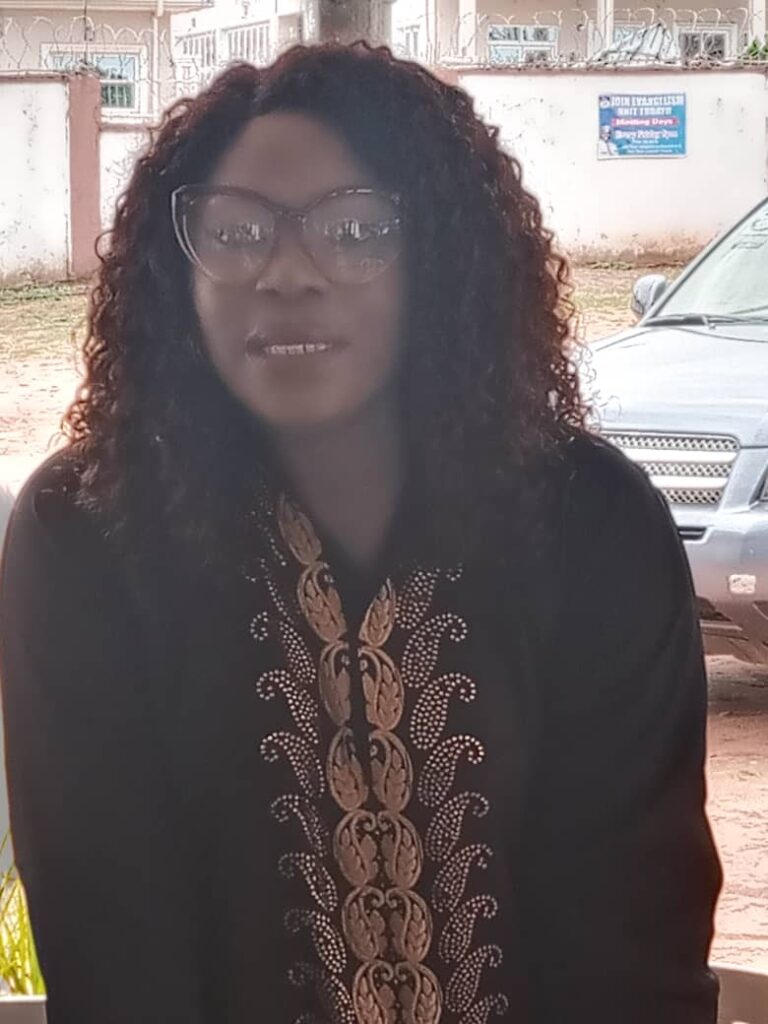 ……..As FARUK Humanitarian Foundation Visits Persons With Disabilities, Gifts Out Foodstuffs, Cash.
….. NGO Group Restates Commitment To More Empowerment of Delta JONAPWDs
…. Association's State Leadership; Comrade Williamson U. D. ovionoweya, Miss Isioma Konwea, Comrade Dr. Ifeanyi Chikunie, Other Beneficiaries Commends FHF NGO's Gesture, Support To Disabilities Group In Delta.
By Victor Bieni, Asaba
Joint National Association of Persons With Disabilities (JONAPWDs), Delta State Chapter has commended the Leadership of Feruk Humanitarian Foundation (Parent body to Feruk Achievers Family Multipurpose Cooperative Society) led by its Chief Executive Officer (CEO) for putting smiles in the faces of its members as Non-governmental organization today gifts out foodstuffs, some cash to persons with disabilities in Asaba.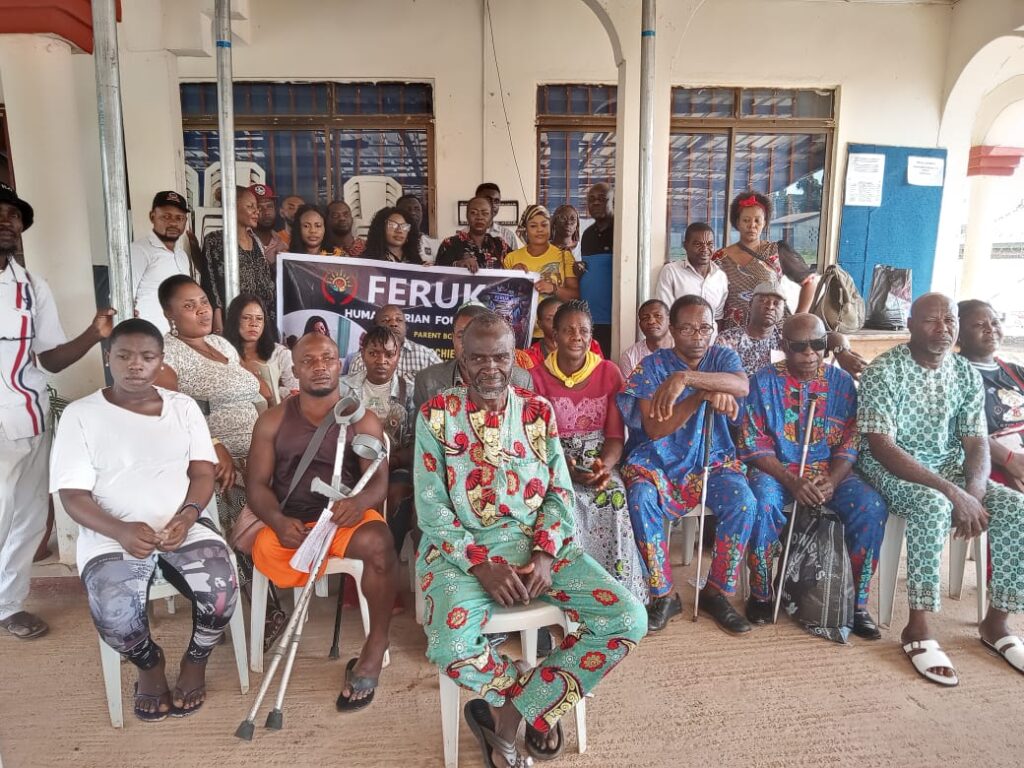 Our reporter witnessed the empowerment program organized by Feruk Humanitarian Foundation today being on Saturday, 22nd day of October, 2022 held at the Delta State Secretariat of Joint National Association of Persons With Disabilities in the State as Delta Persons With Disabilities group Commended gestures.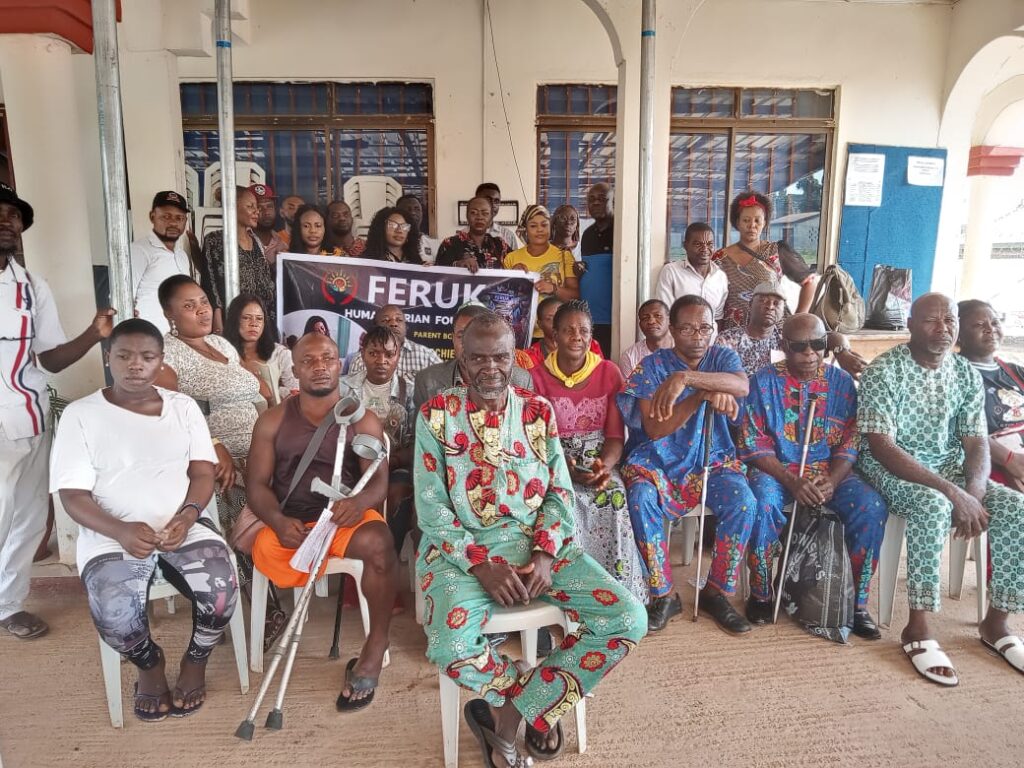 Comrade Williamson U. D. Ovionoweya, The planning committee Chairman for the Delta JONAPWDS- FHF NGO empowerment program, and State Coordinator, Delta Political Vanguard Persons With Disabilities who welcome the team of Feruk Humanitarian Foundation as he quickly introduced the entire Beneficiaries in line with the Association's six clusters category: The Blind, Deef, Dumb, ex-leppers, People With Spinal Cord Injuries, and others.
Comrade Williamson Ovionoweya who debunked the insinuation by some societal group that persons with disabilities cannot do well in life as she lectured them on change of mindset that there is ability in disability using some of them who present who are doing very well in their various specializations, carreer, professions, fields as Engineers, Lawyers, Doctors and Lecturers, Artisans and farmers as he prayed for the group. He also commended Feruk Humanitarian Foundation CEO and her team for remembering, identifying, supporting Delta JONAPWDs. She extolled the virtue of the CEO to had embarked on such philanthropic services in the society.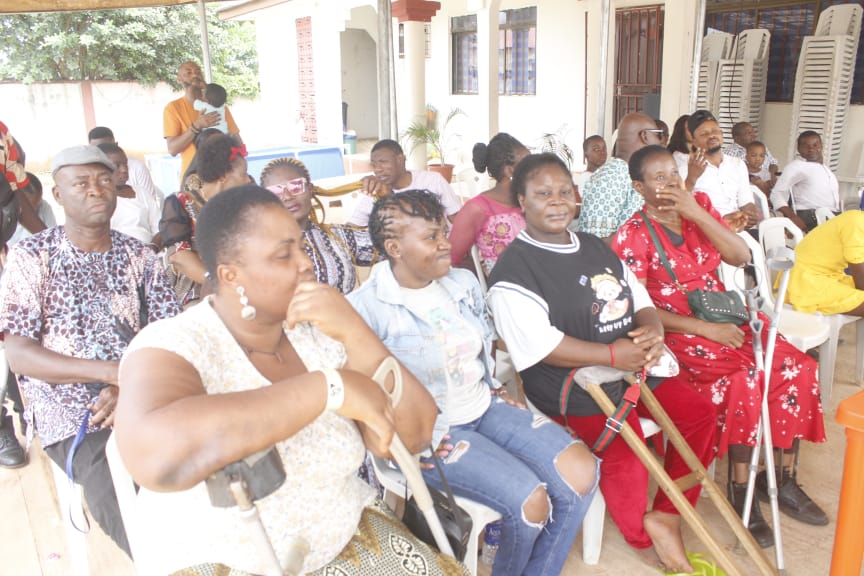 Speaking prior to the presentation of the gifts; Foodstuffs and cash to the Delta Persons With Disabilities Association as a form support, empowerment, the CEO of Feruk Humanitarian Foundation, Okoro Aghe Anthonia has appreciated the kind and laudable reception accorded to her team, NGO by the Delta JONAPWDS as she narrated the origin and thematic areas, major aims and objectives of her Foundation to the society or humanity in general.
She commended the Delta JONAPWDS program Coordinator, Comrade Williamson U. D Ovionoweya who doubles as Outgoing Secretary of the Association in Delta State for his exemplary leadership, and the entire leadership, members fir honoring the call for the empowerment.
She noted that her Foundation will never categorize Itself amongst those group in the society that do not want to associate with them as a result of their condition. While she promised to do more by supporting more in the areas which bothers on their skills and other Agricultural Empowerment programs which she said the NGO had secured partnership with other Development Partners to support Delta JONAPWDs for their growth and development towards self-independence and self employment. She also promised to support the members with Clutches and other necessities to improve on their health conditions.
She then appealed to the group to manage the little gifts from her NGO, FHF CEO stated that, the disabilities group has been one those less-privileged groups that the origin of her Feruk Humanitarian Foundation cannot be told without mentioning that her first child had a similar problem at early childhood though now corrected, that she and her team were so glad to identify with the disabilities group in Delta while she gave room for interactive session to the leadership and JONAPWDs members who were beneficiaries to choose skill areas they will be trained, empowered subsequent times.
The CEO, while appreciating them stated that they are ready to help the less-privileged groups, the NGO will continue to as much as possible best to support the needy; had being reach out to schools, orphanages, IDP Camps and other less-privileged groups in Delta and Nigeria in general. During the interactive session, a Clergyma, who is a member of the team. Feruk Humanitarian Foundation CEO who spoke during the interactive session between the NGO and JONAPWDs Beneficiaries, used the medium to pray for the PWDs that God of heaven will continue to remember them.
Also, most importantly, during the interactive session some of the leadership of Delta JONAPWDs who spoke included among others are: Dr. Ifeanyi Chikunie one of the aspirants for the Chairmanship of Delta JONAPWD while appreciating the philanthropic services of FHF NGO for their humanitarian supports to Persons With Disabilities in Delta as he stated that God has deposited, given special gifts, blessings to those with deformity to succeed.
Comrade Dr. Ifeanyi Chikunie testified being a PhD holder, noted that he is contesting to lead the Community in Delta for the group to regain its public respect as he had good manifestos and Programs in line with the Foundation ready to push for PWDs personal development, Skills acquisition for self-independence, self-employment, improved Economic power, and equal Opportunities, ensure that PWDs are not disenfranchised, while he thanked Delta State Government on improvement and involvement of Persons with Disabilities in the political process as he urged the NGO to look beyond gifts rather focus on PWDs skills development for their self-independence and self-employment.
Other Delta PWDs Leaders, Mr. Oyibo Emmanuel, The Delta State Chairman of National Association of Deef Disabilities lend their voices in thanking the NGO. Also speaking is the South-South Commissioner, Joint National Association of Persons With Disabilities Commission, Miss Philomena Isioma Konwea who during the interactive session thanked the humanitarian NGO group for their support to Delta JONAPWDs as she urged them to look into aspects of empowering its members in the Agricultural sector, that many of them are farmers and some ate ready to farm if given the needed support.
FHF humanitarian NGO team included amongst others are: Mrs Omo Isikekpei, MC Ifechukwude Onukwusa, Mr Henry, Mr. Okumakube Cordelia, Ebiagam, Casinde Dotimi, Mr. Onakpor Jonathan, Mrs Vivian Lebile, Fidelis Edefiagha, Pastor Ochunor and other members of the NGO team too numerous to mention graced the occasion. Feruk Humanitarian Foundation CEO, Okoro Aghe Anthonia, had promised to empower the members subsequently in both skills and Agricultural areas after the interactive meetings.
The gifts which Included foodstuffs; Bags of Rice and other cooking items and little token of cash was presented to Delta JONAPWDs numbering over 100 Beneficiaries. The beneficiaries cuts across different Senatorial Districts, 25 LGAs of Delta State and clusters of PWDs.
Some of the PWDs beneficiaries amongst others are: Comrade Stephen, Miss Idama, who spoke separately to our reporter commended them for the show of love, humanitarian supports as done to Delta JONAPWDs by Feruk Humanitarian Foundation then prayed for the progress of the NGO, more of God's provision for the CEO and her team.
In a vote of thanks as said by one of the beneficiaries, Evelyn Patagon who then on behalf of the Association expressed joy and prayed for God's divine replenishment, provision grace, protection, guidance, blessings and support to be the portion of Feruk Humanitarian Foundation team who came to associate with PWDs then commended the NGO leadership for their humanitarian services.