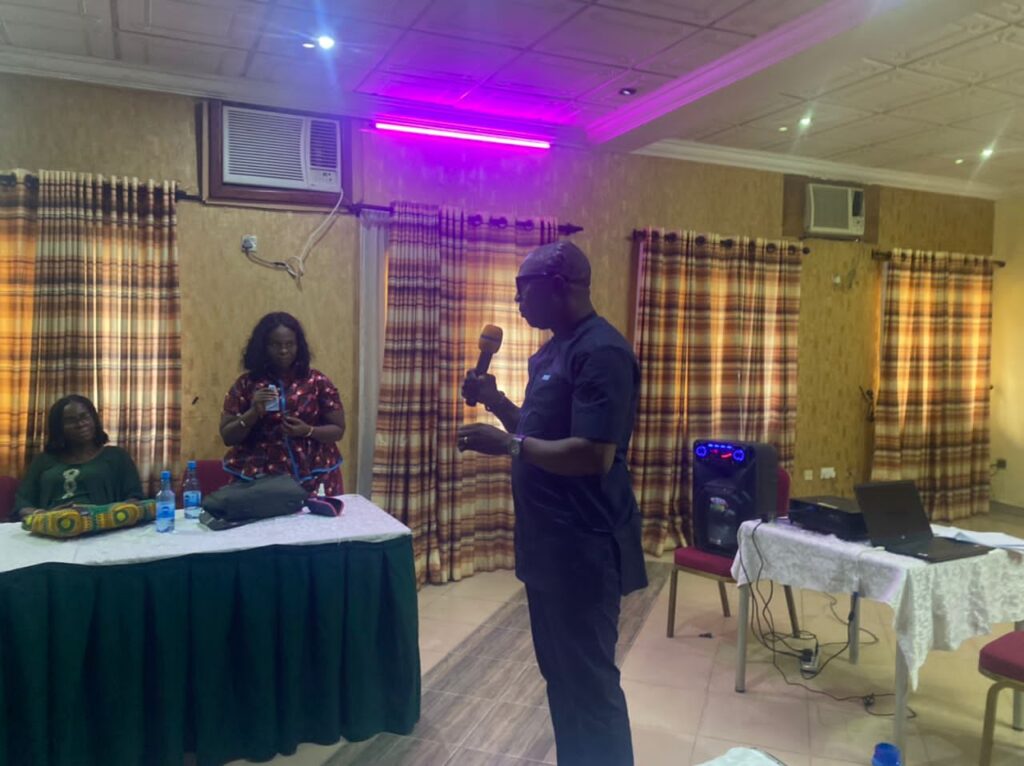 …As Agricultural Stakeholders, Agric Ministry Officers, CSOs, Media, Chat Wayforward
By Victor Bieni, Asaba
As part of efforts to boost Agricultural Development by ensuring global best practices in the domestication of global Goals; United Nations Sustainable Development Goals, SDGs 1, 2, 3 (No Poverty, Zero hunger, and Good Health) and Malabo Declaration of 2014 to allocate 10% of total budget to Agriculture sector leading Non-governmental Organization: Environmental And Rural Mediation Centre (ENVIRUMEDIC), BUDGET COMMITTEE GROUP, AGRICULTURAL STAKEHOLDERS, has called for timely Releases of Agricultural funds, increased budgetary allocation, adequate funding of Agriculture as a unique Sector, among other solutions proffered to the challenges facing food Security in the country.
The media learnt this yesterday being on Thursday, 22nd September, 2022 during a one day Stakeholders consultative meeting on 2023 Agriculture Budget organized by ENVIRUMEDIC with support from ACTIONAID NIGERIA, which was held at Orchid Hotel, Asaba, Delta State as groups collaborate governments, relevant Agriculture Stakeholders in the State to make input into the Delta 2023 Agriculture Sector Budget.
In a welcome address by the CEO, ENVIRUMEDIC, Monday Oghenerouna Itoghor who stated that the Workshop is an annual ritual with support from Actionaid Nigeria usually done in collaboration with Farmers, other critical stakeholders; Governments, Civil Society Organizations; the media, while he appreciated farmers, CSOs and various participants from both Federal Ministry of Agriculture and Delta State Ministry of Agriculture and Natural Resources, ENVIRUMEDIC/Actionaid Nigeria, Delta Budget Committee Group for their attendance, Commitment to boost food production, Proffer solutions to various challenges facing Agricultural Sector funding, budgetary allocation, implementation, and call for better performance, improvement in the sector to ensure food Security and ways to checkmate insecurity in the country.
You could recall that ENVIRUMEDIC with support from Actionaid Nigeria has made imputes, positive impact in improved, increased budgetary performance in Delta State, and Nigeria in general. ENVIRUMEDIC has also been in the business of empowering farmers, promotion of strong advocacy concerns in collaboration with its Budget Committee set up, Government at all levels, Ministry of Agriculture, Stakeholders in Delta State, Nigeria in general towards ensuring increased funding, budgetary allocation for Agriculture Sector, better incentives for real farmers, and best performance in the sector to boost food Security in Delta State, Nigeria despite the huge challenges facing the sector and the country in general.
According to ENVIRUMEDIC CEO the essence of this year's Budget Workshop is to get relevant Agriculture Stakeholders in the State to make imputs into the 2023 Delta State Agriculture Sector Budget, to present the 2022 Agricultural Budget Analysis to Stakeholders, make case for women farmers; key women line items for 2023 Agriculture Budget, and to demand for increase in Agriculture Sector Budgetary Allocation for 2023 for Delta State and Nigeria in general to meet the best global practices on 10% allocation of the entire budgetary allocations to Agriculture.
ENVIRUMEDIC Senior Program Officer, Mr. Lucky Enegide while giving the overview and objectives of the state Stakeholders Consultative Meeting, stated that the Workshop is aimed at leveraging on the knowledge of farmers and other Agricultural Stakeholders, both Federal and State Ministries of Agriculture, CSOs and the media to make imputes that can improve the state 2023 Agriculture Sector Budget, looking at the BCG recommendations and observations on the 2022 Agriculture allocations and priorities.
The floor was open for interactive session, and contributions on the Way forward for the 2023 Agriculture Budget allocation to secure food Security, increased budgetary allocation in Agricultural Sector and possible ways of overcoming the challenges of Agricultural businesses in Delta State.

Prominent among the participants are; representatives of the Delta State Ministry of Agriculture and Natural Resources and Federal Ministry of Agriculture And Rural Development who explored various reasons why budgetary allocations deteriorates and growing concern of food insecurity such as the negative effects of COVID-19, Herdsmen attack or insecurity, flood or natural disasters, loan with interest rate, inflation, Russia-Ukrain War and others, While she hinted on the achievements recorded by Delta State Government through the Ministry of Agriculture in the Agricultural Sector thus far.
That the State Ministry of Agriculture is focused on encouraging farmers to access loan without interest, take Agriculture as a business, promoting Value Chain Development, the activities of other Ministries, Agency such as Job creation Bureau in Promoting Youths involvement in Agriculture, Public Private partnership- Companies and Federal Government such as Rice Processing Mills at Issele -Uku, Agro-industry, Agro Industrial Part at Ogwashi-Uku, Fertilizers Food Processing Companies and working with stakeholders for submission of proposals before budget defence with Economic planning and other processes before approval by the Governor.
Also speaking is the representative of the Federal Ministry of Agriculture and Rural Development who stated that, Federal Government Implementation Action Plan will be followed holistically as the setting up of the committee is underway to ensure food Security in the country. He urged citizens to own the business of farming, that Government should get the real farmers and not political farmers, while Commended the NGO ENVIRUMEDIC Leadership for their support to farmers, their yearly Stakeholders Consultative Meeting on Budget analysis. He added that, ENVIRUMEDIC has shown that the future is bright for Agriculture in Delta, and Nigeria in general. The representative of the National Insurance Corporation, NAIC, has urged farmers to utilize the various Insurance policy of the Corporation to get their farm produce insured against loss as farmers enjoined various stakeholders to support them towards getting the needed Sensitization, trainings, inclusion on Agric programs, subsidized Agric products towards ensuring food Security in the country.
While presenting the findings of the 2022 analyzed Delta State Agriculture Budget by BCG from 2018, 2019, 2020, 2021, 2022, Alex Okekporo, the Program Officer, ENVIRUMEDIC calls for improvement in Agricultural financing for food Security in the state. He commended Delta State Government their interest in Research and Development as shown in the budget, returning Mobilization of Women for Sustainable Agriculture unit budget line back to the budget of the Ministry and other key and strategic allocations among others. He also Commended Delta Government on capital budget and urged the Government to always specify every budgetary allocation on Agriculture in other Ministries, Department and Agencies, increase its tempo on gender sensitivity, Promotion of SDGs 1,2, 3, increase the budgetary allocation to Agriculture sector and performance come 2023.
Mr. Azubuike Nwokoye, Food Angriculture Coordinator, Actionaid Nigeria, gave a good will message on behalf Ene Obi, the Country Director of Actionaid Nigeria. Has urged ENVIRUMEDIC and the group's State Budget Committee to work with Stakeholders in the State, Governments at all levels, using the best advocacy Strategies to achieve the needed results as the Organization is ready to support the initiative. He urged Government all levels to meet up to the yearly 10% allocation of the total budget to Agriculture a global best practices and make the sector number one priority.
He suggested various ways as Wayforward to overcome the challenges facing the sector such as involving consultancy firms, training, setting up commodities Boards, Price control Boards, encouraging timely releases of funds, increase budgetary allocation for Agricultural Sector as a unique Sector, Agric extension, insurance services, NAIC Sensitization and collaboration with Farmers, Promoting the National Agricultural Gender Policy, monitoring and evaluation, Youths, Women in Agriculture, Credit, Storage, processing facilities and others.
Smallholder women Framers also made their inputs. Mrs Oso Faith, Elohor Siakpere were amongst the farmers who commended ENVIRUMEDIC for their support, empowerment, encouragement in making headway in their farming businesses during the Stakeholders Consultative Meeting. Those who lend their voices that attended the Consultative Meeting included amongst others are: The representatives of the Delta State Ministry of Agriculture during the interactive session proffered various solutions to the challenges facing Agricultural Sector, that farmers should take Agriculture as a serious business, Government should provide the enabling environment, good policies direction, especially on Agric price control or stability, revive power sector, avoid politicization of Agric businesses, promote for Agricultural Sector to thrive to boost food Security.