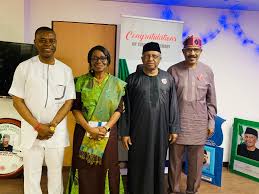 UN+SDGs+UHC+ Agenda 2030: NUHCAN Advocates For Implementation of Extant laws, manifestos, pledge & Use of S.M.A.R.T & 12-PCGP Models To End Nigerian Health Sector Challenges.
…… Nigerian Health Sector Development: NUHCAN Tasks FGN, States, LGAs On 15% Annual Budgetary Allocations.
By Victor Bieni, Abuja
The leadership of Nigeria Universal Health Coverage Actions Network (NUHCAN), has tasks Federal, States and Local Governments to prioritize healthcare by making available 15% budgetary allocation in the health sector even as group seeks partnership with Political Parties with their different Presidential and Governorship Candidates on the need for the Inclusion of Civil Society Organizations (CSOs) at all stages; planning, advocacy, education, monitoring towards tracking the Implementation of their manifestos, pledges, extant laws and programs for solid deliverable commitments for better healthcare for all Nigerians.
The media learnt this from Nigeria Universal Health Coverage Actions Network today being on Tuesday, December 20, 2022 in a press statement which is in line with the memorandum of the group's recommendations to Nigerian Governments, Political Parties and their Candidates on the revival of the health sector and system of this country as signed by NUHCAN leadership; Chairman BOT, Prof Adenike Grange, Executive Secretary, Dr. Uzodinma Adirieje, Chairman, R&D TWC, Prof Joseph Ana and Member/ Secretary, R&D TWC, Hon. Akaninyene Obot, which was made available to some group of Journalists in Abuja, Federal Capital Territory as group Proffers Solutions to the country's endemic healthcare challenges.
Nigeria Universal Health Coverage Actions Network (NUHCAN) is a registered Non-governmental Organization, non-profit, non-political, non-religious, autonomous Organization found in the 36 states and FCT, whose purpose is the coordination of all recognized Civil Society Organizations, private Voluntary Organizations, Institutions and individuals involved in Universal Health Coverage activities and programs in Nigeria. NUHCAN is a member of Global Civil Society Engagement Movement (CSEM) for UHC2030 for multisectoral and multidisciplinary collaboration with stakeholders towards the achievement of Universal Health Coverage in Nigeria.
The leadership stated that, NUHCAN CSOs position in the memorandum is poised towards advocacy for governments Inclusion of NUHCAN, CSOs for leadership roles to give the highest prioritization of the health sector and for effective Implementation of Nigerian Multidimensional Poverty Index 2022 to prevent, reduce, manage poverty; SMART to promote SDGs 1, 2, 3, 4, 6, 7 and 11 and 12-PCGP models for effective Implementation of extant laws, manifestos, pledges, National Health Act 2014, AU Abuja declaration 2001 as part of its recommendations towards ending the menace of the Nigerian Healthcare sector and system.
The leadership while lamenting on while the health sector fail in Nigeria, stated that some of the identified Healthcare challenges which included amongst others are: poor implementation of NHIS, shortage of human and capital resources, materials and inadequate funding for healthcare systems, sector in Nigeria, poor awareness creation on new healthcare policies, lack of capacity and capability to translate national policies to measurable actions and results on the part of governments, poor functional public utilities such as electricity, water, renewable energy, that has led to poor human development index and inability to attain Universal Health Coverage in Nigeria.
NUHCAN leadership while highlighting its recommendations to the challenges, then urged Nigerian governments, stakeholders, politicians to include Civil Society Organizations in the planning, development, delivery processes to create awareness, lead advocacy, promote adequate sensitization and effective policies Implementation in the healthcare systems, sector of the country.
The group amongst other recommendations stated that, NUHCAN with its grassroots structures all over Nigeria, that CSOs should be actively engaged to set agenda towards ending the endemic healthcare systems, sector challenges as group urges governments to give priority to the health sector to be good enough for the leaders and followers to access and use.
NUHCAN noted further that, collaboration with CSOs at national and subnational levels by committing enough resources, earmarking 15% budgetary allocation for the sector with prompt release of funds to bring significant, achievable, realistic and time-bound health strategy to solutions reduce outbreak of diseases, mobidity, mortality rate amongst Citizens, Nigerian population.
NUHCAN leadership also enjoins politicians to shun vote buying, shun the use of thugs to harass political opponents as the preparations for 2023 general elections gathers momentum as group pledges partnership with Independent National Electoral Commission, INEC on education of voters and Sensitization of electorates on the need to collect their voters cards to participate in the forthcoming 2023 general elections in Nigeria.