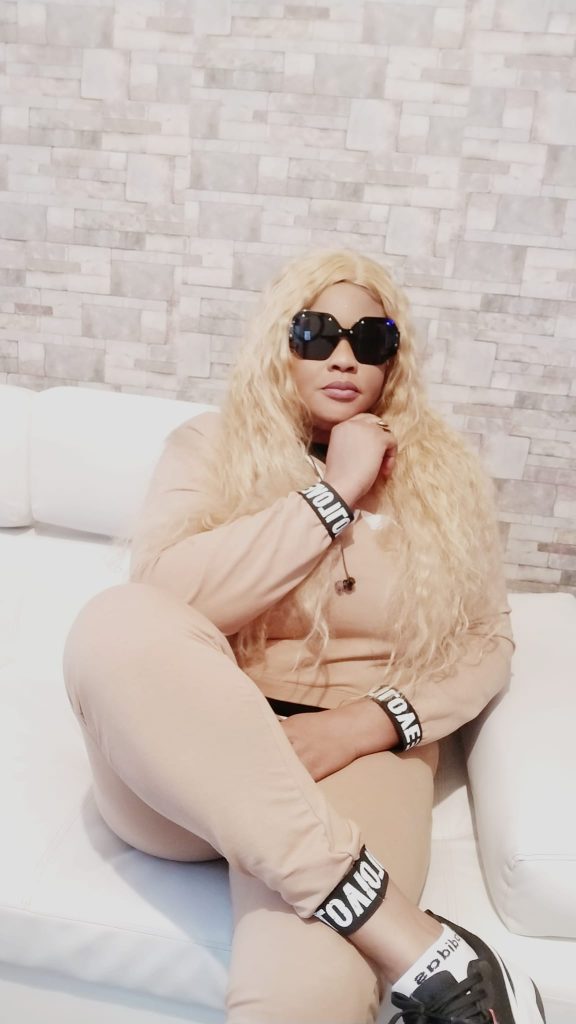 VERA GOLD CHIKA OSAGIEDE: THE ABSTRACT OF A WORLD DISTINGUISHED PHILANTHROPIST, BUSINESS WOMAN & NOLLYWOOD ACTRESS:
This episode is set to demystify the concepts of a great entertainer, Actor or Actress of which ACTRESS VERA GOLD CHIKA OSAGIEDE represents in the 21st century Theatre Arts. It is set out to highlights her births, God's calling in the areas of her businesses, development works, Theatre Arts; acting, film production, entertainment and hospitality sectors. We will look at her Educational background, several achievements. We will look at her extraordinary contributions as a Civil Society person (Activist) in area of fight against rape and poverty. We are going to examine her huge support to society; and as a devout Christian, her services to God and humanity, present exploits, future prospects towards the promotion of the growth and development of different sectors of the global economy of the entire society.
VERA GOLD CHIKA OSAGIEDE: THE TRUE DEFINITION OF A GREAT ACTRESS, ENTERTAINER, DEVELOPMENT WORKER AND BUSINESS WOMAN:
The word Actor refers to a person who acts regardless of gender. While Actress refers specifically to a female. Entertainment is a form of activity that holds the attention and interest of an audience or gives pleasure and delight. It can be an idea or task.
AMBASSADOR MRS VERA GOLD CHIKA OSAGIEDE: A TRUE PICTURESQUE OF AN ACTIVIST, FILM PRODUCER/ BUSINESS WOMAN: A Woman whose Profession is acting on stage, films or television is an Actress. Ambassador (Mrs) Vera Gold Chika Osagiede is a wolrd distinguished Business Woman, Actress, Entertainer, Film Producer, Spanish Chef, Educationist, Anti-human trafficking, Anti-Rape Activist whose global Foundation has impacted lives. As part of her qualities, She is confident, driven and determined. She has excelled in acting, script writing, film production; attended classes, seminars, Workshops, done several researches in the Entertainment, hospitality and Theatre Arts sectors.
AMBASSADOR ACTRESS (MRS) VERA GOLD CHIKA OSAGIEDE: INTRODUCTION OF A GLOBAL ENTERTAINER, DEVELOPMENT WORKER:
AMBASSADOR ACTRESS (MRS) VERA GOLD CHIKA OSAGIEDE is a globally
renowned Actress, Entertainer, Business Woman, Spanish Chef, Master of Ceremony (MC), Film Producer And Educationist truly called by God the creator to support humanity in bringing growth and development to the society.
ACTRESS MRS VERA GOLD CHIKA OSAGIEDE is a real, virtuous woman whose calling, lifestyle exemplifies HOLINESS, GREAT EXPLOITS, ACHIEVEMENTS, HUMANITARIAN SERVICES, AND UNCOMMON GENEROSITY.
As a Nigerian, she has done great exploits and lived up to God's expectations here in the country and abroad. She has travelled round the World. She has played and still playing her roles as a global Philanthropist.
WHO IS ACTRESS MRS VERA GOLD CHIKA OSAGIEDE: BRIEF HISTORY, BIRTH, DEVELOPMENT WORKS, AND EDUCATIONAL BACKGROUND:
ACTRESS (MRS ) VERA GOLD CHIKA OSAGIEDE was born on 4th of March, 1980 to the family of Mr and Mrs Prince Timothy Egwim in Ihem Mbano Local Government Area, Imo state, Nigeria. The mother is from Okigwe
MRS VERA GOLD CHIKA: OSAGIEDE ROFILE OF AN ACCOMPLISHED WOMAN OF SUBSTANCE, A NIGERIAN, HER EDUCATIONAL BACKGROUND
At early stage in life as a child, she was taken to Ogun State, Nigeria. Although she was born and brought up in Benin City, Edo State, Nigeria. After her Primary Education in Benin City, she was taken to Ogun State where she did her JSS 1 and 2 primary Education in Benin and later moved to Ogun State. She also attended Anglican Grammar School in ogun state and later on came back to Benin City where she finished her Secondary Education where she got her NECO and JAMB, then proceeded to UNIBEN where she bagged her Diploma in Business Administration. Actress (Mrs) Vera Gold Chika Osagiede is presently in University of Cantabury Studying a degree in Business Administration.
ACTRESS (MRS.) VERA GOLD CHIKA OSAGIEDE: FAMILY LIFE, MARRIAGE AND JOURNEY TO GREATNESS
Ambassador Actress Vera Gold Chika Osagiede is Married with two children and one adopted child. She is from a family of ten with eight serving children. She is the fift child of her parents in a family of ten. She has travelled to different African Countries, to France, Spain and finally to United Kingdom. 2007 she was in Spain. She spent 10 years in Spain with her husband.
She is business woman, an Master of Ceremony (MC), She is An actress, a film producer, an activist, entertainer and Spanish Chef whose great contributions to Nollywood, Entertainment and Hospitality Sectors is very enormous.
ACTRESS (MRS.) VERO GOLD CHIKA OSAGIEDE: DOMESTICATING SDGs THROUGH COMMUNITY SERVICES IN IMO STATE, NIGERIA, AFRICAN COUNTRIES, SPAIN, UK AND GLOBALLY
Ambassador Actress Vera Gold Chika Osagiede is the Founder/CEO, Vera Gold International Foundation, The Founder/CEO, Vera Gold Production, And an Educational Institution that has been approved by UK Government to Certify graduating students. She Acts in plays, movies, a film producer. She is a female Actor that has collaborated with other Actors and Actresses globally; writers, script writers, Film Directors, and other Professionals in the theatre acts industry in her State Imo State, Nigeria, African continent and the rest of the World to bring performances to life as an integral part of storytelling.
While in about seven different African countries as well as France and Spain even at present in United Kingdom, she had done uncountable Community and humanitarian services that bothers on fight against prostitution, human trafficking and other crime against humanity, Poverty alleviation programs using her Foundations and other platforms. She has helped to re-integrate, offer protection, develop empower and rehabilitate those girls and women who were victims of rape and other crimes such as prostitution with the support of her partners.
ACTRESS (MRS) VERA GOLD CHIKA OSAGIEDE: HER OTHER ROFESSIONAL SKILLS
A Spanish chef, An entertainer, a Comedian, a physicsmatocist by profession with instittute gotten approval from UK Government to issue certificate.
VERA GOLD FOUNDATION's EXPLOITS IN NIGERIA, AFRICA, AND GLOBALLY
Mrs Vera Gold Chika Osagiede has positively affected lives, still impacting on the lives of less-privilege citizens, widows and rape victims in her State, Nigeria, Africa and globally through her Foundation.
She has struggled to fight Child Abuse. When her daughter was a year old, she taught children how to take care of their bodies. She has collaborated with Divine Christian Ministries. She engaged and taught children health and spiritual things.
It was fun with her team, But alot of evil act on our girls she could only help few to go back to Nigeria. Also, through the help of some of her partners then while in some African countries and in Spain 2007 with her husband.
Vera Gold Foundation is making sure that all Rape culprits, offenders are been brought to book.
The foundation is making sure that it sees rape culture comes to and end. She is currently establishing the Rape victims through various interventions like making of hair and clothes, getting them jobs.
The foundation also look after widows and homeless children. At the moment, my foundation is building an old peoples' home , which is currently going on in the eastern part of Nigeria.
VERA GOLD CHIKA OSAGIEDE's LOCAL AND INTERNATIONAL AWARDS OF EXCELLENCE, GLOBAL RECOGNITION FOR HER SERVICES TO HUMANITY
Ambassador Actress (Mrs) Vera Gold Chika Osagiede has won several local, National and International awards because of what she does, her immense contributions to the growth and development of Entertainment, Movie, Nollywood, Hospitality Sectors and Civic Space.
Vera Gold Foundation is one Foundation that you can see everything going on in it.
Vera Gold Foundation had rehabilitated, taken out so many homeless out of the streets and given hope to widows who have no kids. The Foundation is set up to fight for the rights and make life better for many Rape victims. Vera Gold Foundation started 17years ago by teaching kids how to look after themselves.
ACTRESS (MRS) VERA GOLD CHIKA OSAGIEDE's GLOBAL EXPOSURES, SERVICES TO GOD AND HUMANITY; FUTURE PROSPECTS AS A GLOBAL ENTERTAINER, DEVELOPMENT ACTIVIST AND BUSINESS WOMAN
At the moment vera Gold Foundation has set up plans for next month by opening two shops getting professional to teach some of this girl on the street how to make hairs and later on make money for themselves.
Actress Mrs Vera Gold Chika Osagiede's Foundation and Production has grown with branches globally. Globally, and in Africa, Nigeria in particular, her Foundation has branches in all the 36 States of the Federation and F.C.T, Abuja, Nigeria. God has been using her to touch lives positively through her acts of Charity.
She had been rendering others services such as prisons, hospital visitations, paying medical bills for those who cannot pay, training of students from poor families in their educational pursuits, rent for those who cannot afford to pay.
Additionally, through her Foundation is still paying School fees for students at various level of education. She had also helped countless less-privileged Nigerians; Children, Youths, Women, and other indigent citizens in the society.
She paid for Visa and tickets for young men and Women who had travelled abroad, especially those in the Entertainment and hospitality Sectors.
AMBASSADOR ACTRESS MRS VERA GOLD CHIKA OSAGIEDE and her husband are also members of different Professional Associations globally, Africa, Nigeria, Communities, and other Countries. VERA GOLD CHIKA OSAGIEDE is a recipient of different Meritorious award from different States, Communities in Nigeria.
AMBASSADOR ACTRESS MRS VERA GOLD CHIKA OSAGIEDE is a Business Woman, a Film Producer, Activist, And a GLOBAL Philanthropist, Professional Spanish Chef, a Master of Ceremony, and the Grand Patron, Nigerian Entertainment Clubs, Groups, Civil Society Organizations. She runs her numerous businesses in her spare time.
VERA GOLD CHIKA OSAGIEDE's (A.K.A VERA GOLD FOUNDATION, PRODUCTION) ADDRESS, CONTACTS AND SOCIAL MEDIA HANDLES:
You can follow Vera Gold Chika Osagiede on all social media @Vera Gold Foundation @IG and YouTube @Vera Gold Foundation. Facebook vera Gold. You can also contact her through her address and Telephone numbers in United Kingdom, London.