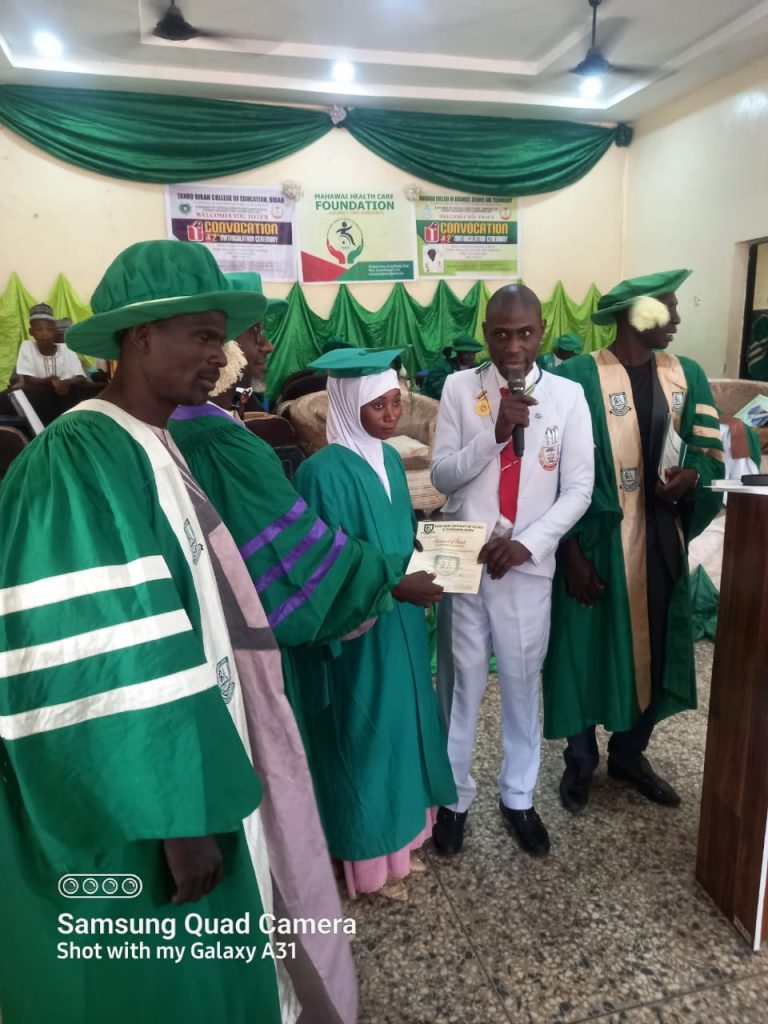 …..CUICI VC Awards Scholarships To Brilliant Student & Polytechnics Staff In Kebbi State
……..SDGs 4: UNESCO Laureate Restates Commitment To Selfless Service To Humanity Through PESBAIF
……As Two Brilliant Students' Recipients; Active Academic Staff & A Female Student of The Polytechnic Commends UNESCO Laureate.
By Victor Bieni, Asaba
Prof Sir Bashiru Aremu, UNESCO Laureate and Vice- Chancellor, Crown University Int'l Chartered Inc., USA with its teaching and research hospital campus located at Santa Cruz Province, Argentina South America, with official partners constituent campuses at government regulated universities Worldwide and online operation, has reiterated his commitment towards selfless service to humanity as he awarded full scholarships to a brilliant student & Staff of MACTEC & TCE Polytechnics in Kebbi State, Nigeria
The media learnt this from UNESCO Laureate, World Acclaimed Distinguished Universities Research Professor Sir Bashiru Aremu in a press statement personally signed by him, which was made available to some group of Journalists in Asaba, Delta State capital by his Executive Assistant on Media, Publicity and Communication Matters, Comrade Sir Bieni Victor Emenike today being on Tuesday, January 31, 2023 as CUICI VC stated that, he is committed to humanitarian/community Services and selfless service to humanity through PESBAIF.
You could recall that CUICI VC, Prof Sir BASHIRU Aremu recently laid foundation for Polytechnics in Ribah, Kebbi State, Nigeria MACTEC & TCE monumental building projects as started by the provost, Dr. Sir Samaila Mohammad, Crown University product, who is a seasoned Educationist, Researcher, Writer, Lecturer, lCommunity & Public Health Practitioner. UNESCO Laureate who matched his words with action having pledged to support global quality education on SDGs 4 awarded full scholarships to Ummulkhairi Musa Maiyaki for Bachelor of Science Degree in Nursing Science – Female Student of the Polytechnic &
Mr Zayyanu Shehu for Master Degree course in Petrochemical- Staff of the Polytechnic.
PESBAIF means Professor Emeritus Sir Bashiru Aremu International Foundation Inc. PESBAIF is a global leading philanthropy focused Non-governmental Organization working on the thematic area of empowering entrepreneurs. The International Foundation was founded in 2017 by H.E, UNESCO Laureate, World Acclaimed Distinguished Professor Emeritus (On Merit) Sir Bashiru Aremu who is passionate about global economic development.
It was gathered in a reports made available to the media that, CUICI VC, World Acclaimed Distinguished Universities Research Professor of Computer Science, Information Communication Technology, Professor Sir Bashiru Aremu greatly was commended by the Provost of the institutions, Dr. Sir Samaila Mohammad, the Students and staff of MACTEC & TCE Polytechnics during the announcement in Ribah Kebbi State, Nigeria.
The statement by PESBAIF Founder/CEO reads in parts: "Recently, I, UNESCO Laureate made a promise to support Dr. Sir Samaila Mohammad, Founder/Chairman of Mahawai Foundation For Healthcare and the Provost of both Mahawai College of Business, Science And Technology, Ribah,Kebbi State, Nigeria & Tanko Ribah College of Education, Kebbi State, Nigeria. The two institutions are recognized as an affiliate colleges, an official member of worldwide constituent campuses of Crown University Intl. Chartered Inc. in USA, a world acclaimed distinguished recognized research university. This gesture is in fulfilment of the promise made to the Provost, and a development to boost the united nations SDGs goal number 4 for global quality education".
"Professor Sir Bashiru Aremu who is a Fellow and World Acclaimed Distinguished Research Professor of Cambridge Scholars Publishing at United Kingdom that was top up with the same title and award by the various Higher Institutions and Organizations such as The UN ECOSOC, Human Rights Education Federation of the IHRC, Geneva, Switzerland, Faculty of Education, University of Nigeria, Noble INT'L University USA and Canada Partners West Coast INT'L University of Sciences Technology Management and Arts and others world wide apart from that he received Excellence Service Award International Scientist. By God's special grace, I will continue to show commitment to selfless service to humanity by supporting the mission and vision statement of Mahawai Foundation For Healthcare and its Founder, Dr. Sir Samaila Mohammad working towards deepening the 17 United Nations Sustainable Development Goals (SDGs)".
"SDGS are blueprint to achieve a better and more sustainable future for all. SDGs are universal plan for all countries to end poverty, protect the plannet earth and ensure prosperity for all. Reports had it recently that, survey conducted by World Economic Forum finds that the top three SDG priorities for the global public are: SDG 1- No poverty, SDGs 2- Zero hunger and SDGs 3- Good health and well-being".