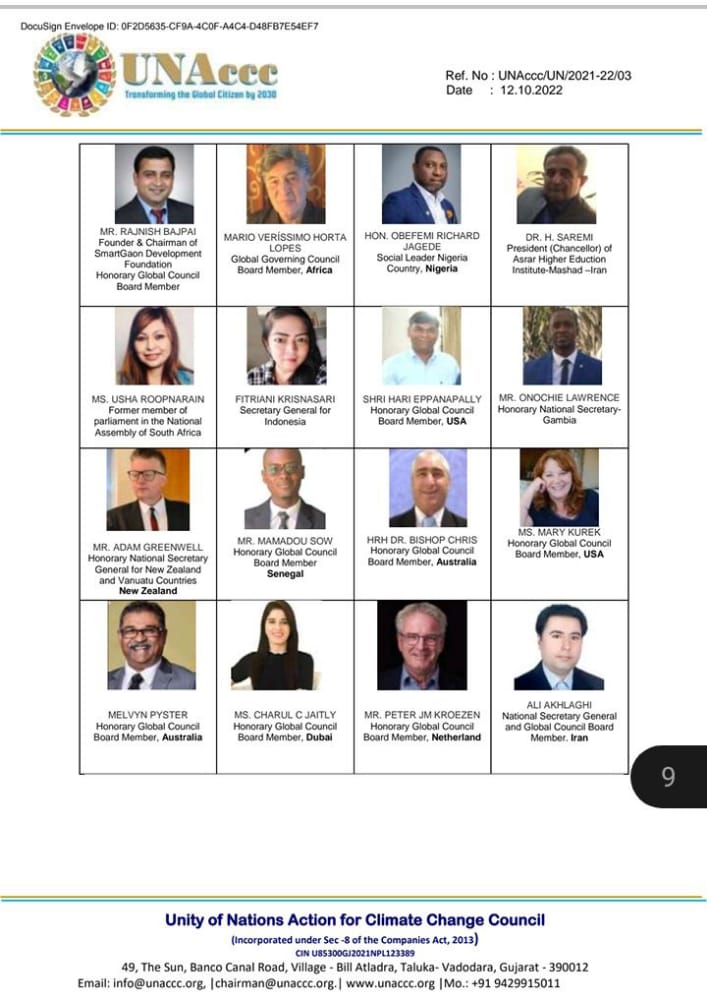 ……. Russia-Ukrain War UNAccc Tasks UN On Global Peace For Food Security, Human Rights Protection, Agenda 2030.
… Russia-Ukrain War: UNAccc Says, Use of Nuclear Weapons, A Threats To Human Existence.
By Victor Bieni, Asaba
Unity of Nations Action for Climate Change Council (UNAcccc) led by its Global Chairman, Dr. Rajat Sharma, has called for United Nations swift Intervention to end the on-going war between Russia and Ukraine as group raises alarm on its huge risks to Universal Declaration of Human Rights and consequent global financial crisis, insecurity, depressed World economy, unrecovered shock of global COVID-19 pandemic, destruction of ecosystem, global Environmental pollution, destruction of civilization, businesses and the planet, loss of equatic and human lives, rise in global unemployment rates, threats to nuclear war and other disastrous results.
The media learnt this today being on Thursday, 13th day of October, 2022 in a letter addressed to the United Nations Secretary'-General, H.E, Antonio Guterres which was made available to some group of Journalists in Asaba, Delta State capital by UNAccc Secretary'-General for Argentina Country And a Global Council member of UNAccc, UNESCO Laureate and Vice-Chancellor, Crown University Int'l Chartered Inc., Prof Sir Bashiru Aremu, which was duly signed by the entire leadership of Unity of Nations Action for Climate Change Council (UNAcccc) as group condenms the thought of nuclear war, appealed to World Leaders to end the War between Russia and Ukraine for global peace and security.
The leadership stated that, Unity of Nations Action for Climate Change Council (UNAcccc) is a registered Non-Profit organization registered under section 8 of the Companies Act 2013 in India by a group of dedicated EHS and Sustainability Professionals, Social Workers, Senior Bureaucrats, Educationists, Member of Parliament, Senior Supreme Court Advocates, Retd Supreme Court Judges and other Professionals committed to global peace, bringing positive change to the society and the World at large.
You could recall that United Nations as an international Organization founded in 1945 by 51 countries to maintain international peace and security, protect human rights, uphold international law, deliver humanitarian aid, promote sustainable development throughout the World, harmonize actions of nations; develop friendly relations among nations. UNAccc had in its letter to United Nations copied the UN President, UNDP, UNESCO, UNHCR, UNSDGs as group urges World Leaders to believe in universal brotherhood.
UNAccc has stated that, just like the National Rights Commission (NHRC) established in India in 1993 under the statue of PHRA and as amended in 2006, which section 2 (1)(d) defines Human Rights as rights relating to life, liberty, , equality and dignity, that its leadership is hundred percent committed to international human rights protection and environmental pollution control. The group then called on Russia and Ukraine to end the war. According to UNAccc, lessons of history cannot be forgotten, "the Great Sikander who conquered many countries during the war, left the World, died empty handed regretting and repenting. The very proud and arrogant persons have been consumed by their own proud".
UNAccc while urging United Nations to wake up to its responsibilities, has stated the United Nations- Universal Declaration of Human Rights as contained in the simplified version of Article 30 to protect young people. According to UNAccc, these Included amongst others are: "We are all born free and equal, Don't Discriminate, The Right to life, No slavery, No Torture, You have right no matter where you go, We are all equal before the law, Your human rights are protected by law, No unfair detainment, The right to social security, democracy, trial, copyright, privacy, public Assembly, freedom of movement, expression, thought, Education, play, food and shelter, nationality, marriage, family, Workers' right, and others to mention but a few.
The global peace, unity group cautioned that Nuclear weapons as most terrifying weapons invented can cause unspeakable human sufferings if not checked. UNAccc has warned World Leaders that the earth's ecosystem could be severely disrupted thereby resulting to reduced global temperatures, food shortages around the world. Also, that the radioactive fallout if allowed will play a huge havoc in the coming generations where children will be born with various disabilities, mass of Women will become widows, and children will become orphans.
UNAccc stated further that, Russia-Ukrain War has greatest Nuclear risks to its peak as the group urged World Leaders of Nuclear weapons countries to stop provoking, targeting each other with the threats of Nuclear war destruction as it created an atmosphere of insecurity within the human beings globally. The group while calling for United Nations and other globally recognized international organizations to intervene, warned that the lessons of history should not be ignored; citing the negative effects of Nuclear weapons Hiroshima and Nagasaki that is left unforgotten.
The group reminded United Nations and World Leaders that the entire humanity on this planet have great expectations from them towards ending the War between Russia and Ukraine to bring global peace and a healing touch to the sufferings of people due to this war. According to the global peace, security and human rights group, universal brotherhood under the fatherhood of one God; one family attributes of one religion, one language of love, one caste system should be the ultimate principles of our earthly existence.
The group in its letter to the United Nations leadership, globally recognized international organizations has appealed to World Leaders to abide by the mutual consent of peace and unity with other countries. The adamant countries with the intention of using their nuclear power to overpower the under-developed/ developing countries should be declared rebellious countries so that a lesson should be given to them. The global peace, unity and human rights group also, appealed to World Leaders to pledge to eliminate the fear of nuclear war on this beautiful planet so as to ensure that people live in peace, harmony and for the completion of SDG Goals 2030.
UNAccc's letter to United Nations which was made available to our reporter was duly signed by Dr. Rajat Sharma, Global Chairman, UNAccc, Mr. Jan Nieuwenburg, Representative for Sec. Gen. UN-NATO-EU & UNAccc Chairman, Netherlands (EU), Dr. Jagannath Patnaik, Co-Chairman, UNAccc, Sh. Kamal Taori IAS (Retd.), National Chairman, UNAccc, Sh. Mohan Singh Sudan, Chief Secretary, UNAccc, Sh. Ajay Kr. Mishra, IAS (Retd.), Dr. Manoj Kr Vajpayee, Global Chairman, UNHR Council, Dr. Rajesh Kumar, Founder/President, UNHR Council, Dr. Bashiru Aremu (Vice Chancellor-Crown University International), Secretary-General, UNAccc For Argentina Country & Global Council Member, Argentina, Dr. IAN Peter Anderson, Director And Board Member, World Bank of Currency Inc & Alliance For SDG's IGO, United Kingdom, H.E, Amb. Terry Earthwind Nichols, Global council emembers UNAccc with approval of over hundred global council members from different countries of the World.