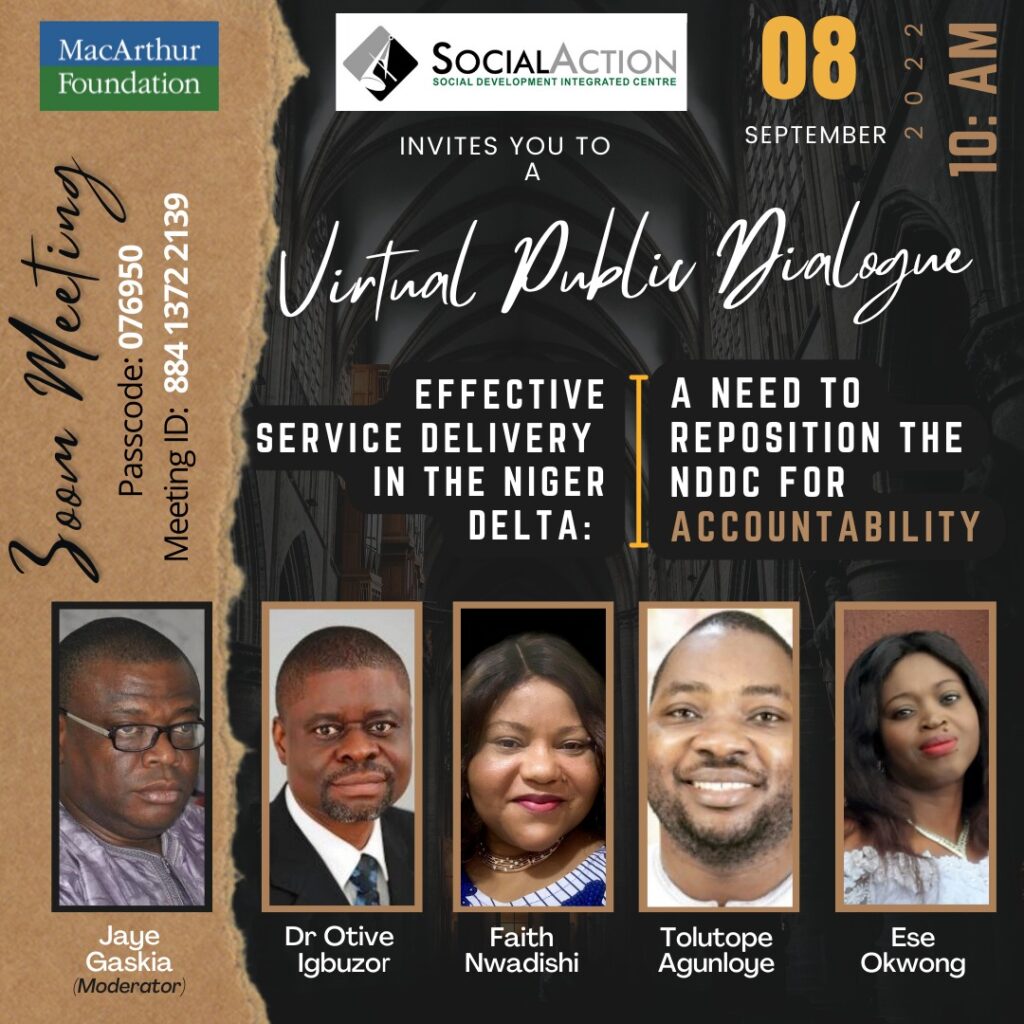 ….Groups, Civil Society Leaders Chat Wayforward To End Poor Accountability/Ineffective Service Delivery In NDDC
….. NDDC's Corruption: Procurement Policy, Pillars of Economic Development, Others Tops Solutions To Menace As Suggested By Social Action, Civil Society Leaders.
By Victor Bieni, Asaba
As part of efforts to reposition Niger-Delta Development Commission (NDDC) for accountability, effective service delivery in the Niger-Delta Region and chat ways for Niger-Delta Development by rigorously x-raying the issues, concrete mechanisms towards ensuring that the people's resources rightly goes for people's good to work towards changing indices of under-development, poverty and associated vices, ultimately living standards of the people of the Niger-Delta Region, a leading International Non-governmental Organization based in the Niger-Delta Region, Social Development Integrated Centre (Social Action) working in the thematic areas of promoting community development, good governance and accountability to shun every tendency of corruption by public office holders and awaken citizens consciousness on their civic rights for a better society.
Our reporter was one of the media participants at a virtual public dialogue organized this week being on the 8th Day of September, 2022 by Social Development Integrated Centre (Social Action) in partnership with Mac Arthur Foundation on the theme: "Effective Service Delivery In The Niger-Delta: A Need To Reposition The NDDC For Accountability" as moderated by Jaye Gaskia and other Nigerian Civil Society Leaders such as Dr. Otive Igbuzor(Centre LSD), Adebowale Adedokun and Mac Arthur Foundation, (MCIP Head of Research Training & Strategic Planning Department, Bureau of Public Procurement, Faith Nwadishi, Tolutope Agunloye, and Ese Okwong who delivered some papers during the event.
The moderator, Jaye Gaskia stated: "Niger-Delta remains the lifeline of Nigeria's Economic sustainability. Since the discovery of crude oil in the region in 1959, revenue from the crude oil sales has contributed more than 90% of the Nigeria's foreign exchange earnings and 80% of government budgetary revenue. Niger-Delta Development Commission (NDDC) was established in the year 2000 to address the failure of the earlier Initiative, Oil Mineral Producing Area Development Commission (OMPADEC), which was marred by lack of focus, excessive corruption, political interference and high overhead cost. Niger-Delta environmentally devastated by pollution from oil extraction activities".
Social Action Program Manager, Botti Isaac while welcoming the participants stated that Since 2019, NDDC has been in the news for various wrong reasons following the public outcry, criticism and condemnation that greeted the many reports of corruption as President Mohammadu Buhari ordered a Forensic Audit of the NDDC's financial records from 2001-2019 which triggered a lot of public expectations. According to him, the forensic Audit reports exposed 12,000 abandoned projects worth N6 trillion as Civil Society Leaders enjoined President Buhari to prosecute those culpable for the stealing of those funds.
Social Action Program Manager, Botti Isaac also raised some critical questions as a starting point for the Forensic Audit Reports. Where is the Forensic Audit Report? Why have the details of the report remained sketchy? Who are those responsible for the 12,000 abandoned contracts? What is the position of President Buhari, and EFCC on the abandoned projects? What are the challenges facing effective service delivery in NDDC? What can be done to make Niger-Delta a condusive place for its citizens? These were the issues he raised for deliberations during the virtual dialogue of the civil society leaders.
Speaking on solutions to some of the burning issues as it pertains policy dialogue on effective service delivery in the Niger-Delta: A need to reposition the NDDC for accountability, Adebowale Adedokun, the MCIP Head of Research Training & Strategic Planning Department, Bureau of Public Procurement sees procurement as framework of good governance and effective service delivery as services delivered in a reliable and customer-friendly manner.
He stressed the need for NDDC to adhere strictly to master plan on Standard Operating procedures, System of practice, apply the 9 essential steps of Public Procurement Act 2007/ Finance Act 2020, engage stakeholders during projects conception and execution; capacity building of stakeholders; CSOs, Project Staff, Contractors, Procurement officers, deploy culture of rewards and sanctions mechanisms; post assessment of projects for stakeholders perceptions, feedback mechanism, BPP regulatory functions and benchmarking of procurements in line with global best practices.
Dr. Otive Igbuzor of Centre LSD dwelt on the topic: "The Role of NDDC in Ensuring Holistic Development" as he stressed in the importance of Niger-Delta in the political economy of Nigeria, while he hinted on the need for Federal Government to inaugurate NDDC Board, ensure that all outstanding allocation to NDDC are paid, follow budgetary process by NASS, improve on internal accountability process including procurement, implement the audit report, ensure Inclusive engagement of stakeholders with active participation of CSOs, and promote effective M & E in place as what can be done in the immediate to reposition NDDC, or solutions to refrain corrupt officials of NDDC from using the Commission as cesspool of corruption and to encourage the need for Niger-Delta Development.
Other civil society leaders, speakers who contributed during the virtual dialogue on the "Effective Service Delivery In The Niger-Delta Region: A Need To Reposition The NDDC For Accountability" are: Comfort Agbebaku, The Assistant Communucation Manager, Social Action, Faith Nwadishi, Tolutope Agunloye, Ese Okwong and other Representatives of Mac Arthur Foundation as civil society leaders stressed the need for NDDC, Ministry of Niger-Delta Affairs to anchor on the three pillars of economic development; also holistically ensure commitment to equity and fairness, long term review of Development; to know some of the threats and successes, promote the use of the five dimensions of development, the nine pillars of Gross National Happiness, ensure full implementation of 2008-2009 UNDP Report on four courses of action for Nigeria's Development Strategy among others.