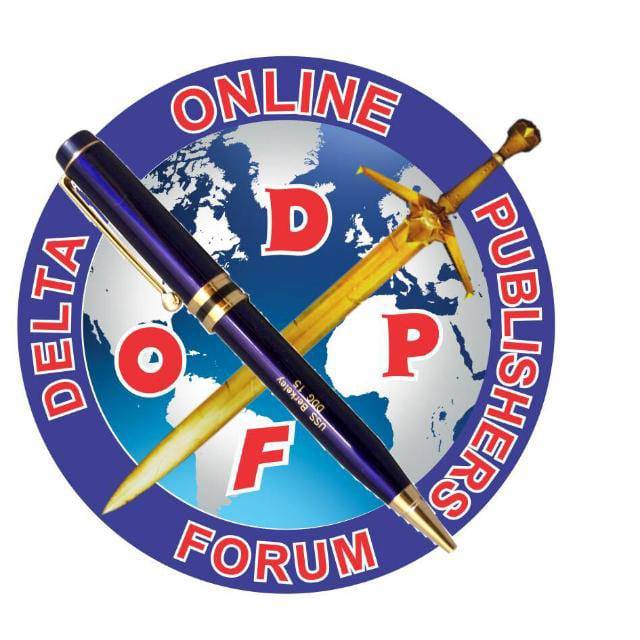 …As Group Urges Federal Government To be Proactive And Be Sensitive To The Plight of Nigerians.
By Victor Bieni, Asaba
Delta Online Publishers Forum (DOPF) led by its Chairman, Emmanuel Ochonogor has proferred Solutions to two burning issues Delta State and Nigeria in general, which bothers on oil theft and endemic Flood menace in Nigeria as urges governments to rise up to its responsibilities towards ensuring adequate protection of lives, property and citizens as well as National Assets for Socio-economic development of the country.
Our reporter was one of the observers that witnessed the DOPF media Hangout yesterday being on Tuesday, 18th October, 2022 in Asaba, Delta State capital as group differs on stands by Human Rights Lawyer, Femi Falana, and Ex- Niger-Delta Militant, Government Ekpemupolo (A.k.a Tompolo) and Security agencies: disagree with them On Oil Theft, burning of stolen crude oil, stated Pipeline Surveillance Contracts awarded to Tompolo's Company is in line with community policing concepts and call for Gen. Irabor's resignation by Falana not the Solution to the problem.
You could recall that Femi Falana, Human Rights Lawyer had stated that it is criminal to for the Nigerian Military to had burn stolen crude oil. He recently called for the resignation of the Chief of Defence Staff, General Lucky Irabor over the burning of stolen crude oil by the Military. He also lambasted the Federal Government and the Ex-Niger Delta Militant, Chief Government Ekpemupolo (A.k.a Tompolo) over the N48B Pipeline Surveillance Contracts awarded to his Company, just like the Arewa Youths and some Governors in the Western Nigeria who joined same call. Tompolo, and some
of his allies had severally defended the Contracts award as a good development and the Military on the burning of stolen crude oil.
The two-man discussants and a moderator led by the Deputy General Manager-Editorial, Pointer Newspaper, Mrs Henrietta Oyahkilome, Former National President, National Association of Delta State Students (Worldwide), NADETSU, Comrade Donald Igudia, a staff of National Orientation Agency and Publisher of Spadeng, Comrade Abel John Gold, DOPF National Vice President, Abiandu and other members of DOPF had variant opinion after critically examining the stands of Falana, the Military, and Tompolo as group urges the security agencies to wake up to its responsibilities of protecting lives and property of citizens.
DOPF leadership had stated that the Pipeline Surveillance Contracts awarded to Tompolo is in line with Community Policing concepts. The group noted that the call by Femi Falana (SAN) for the resignation of the Chief of Army Staff, Gen. Lucky Irabor is not the solution to the problem rather that the Military should avoid being complicit as alleged by Tompolo. Also, that the Military should partner more with the locals, community leaders just like Tompolo's current partnership with critical stakeholders to achieve the goals of ending Oil Theft menace.
DOPF leadership also disagree with Tompolo and the Military on the burning issue that burning of stolen crude oil is in line with the laws, extant laws of Military engagement as group urged Federal Government to investigate activities and review legislations to prevent further economic loses, environmental hazards, degradation, pollutions, disease outbreaks and other environmental consequences as a result of the burning of stolen crude oil, rather explore other measures to checkmate theft for the oil sector to get revived and to boost Socio-economic development of the country.
DOPF leadership while commending the efforts put so far by Tompolo to had discovered stolen crude oil, the alleged Military complicit on illegal bunkering near Military post within a short time which some highly place individuals and NNPC top officials were alleged to be involved. The group had as part of its solutions to the Oil theft menace called for Federal Government thorough investigation on the matter.
Some other solutions to oil theft in Nigeria as suggested by the discussants: Oyahkilome, Igudia, John Gold, Abiandu, the leadership of Delta Online Publishers Forum (DOPF) included amongst others are: That Nigerians should seek the face of God with genuine repentance to effect positive change in the country, not only in the oil sector, illegal bunkering, stolen crude oil should be investigated by the Federal Government and not total burning to avoid environmental hazards degradation and waste of resources.
Other top suggestions by DOPF leadership during the media hangout also bothers on the ground that, Federal Government should rescind from its Militarization of, and neglect of the Niger-Delta Region; the development, empowerment of Niger-Delta indegenes, partnership with citizens, Communities by the Military and Federal Government should be taken seriously, Security agencies, NNPC and other top Government officials should avoid being complicit to oil theft menace, avoid aiding and abetting, Federal Government should be sincere with Ogoni Clean up exercise, and finally, that the Military and other Security agencies should be empowered by the Federal Government with modern Aircrafts by Security agencies and other modern Security Technologies to checkmate Oil Theft menace in Nigeria.
In another development, the two- man panel of discussants and a moderator which included amongst others: Mrs Henrietta Oyahkilome, Comrade Donald Igudia, and Comrade Abel John Gold and other members of the DOPF also discussed the current ravaging effects of flood menace on Deltans and Nigerians in general as group called on governments at all levels to rise up to their responsibilities to cushion the effects of the menace on citizens.
Flood is an environmental problem, an age-old phenomenon. Flooding is a significant rise of water level in a stream, lake, reservoir, or coastal system that overflows the banks. Flood is a natural or man-made disaster that causes discomforts, destruction of lives and property as well as pollution; which can either be river flooding, Coastal flooding, urban flooding as one of the most common environmental hazard in Nigeria. No doubt, there is increasing vulnerability of populations and Infrastructure to flooding and other related hazards.
DOPF while commiserating with the victims of flood in Delta and Nigeria in general over the discomforts, the destruction of lives and their properties and other disease outbreaks following the ravaging flood menace, used the opportunity to enjoin Governments at all levels to always be sensitive, be prepared and proactive enough to combat menace on time by building IDP across the local governments, States or country before the occurrence so as to avoid more loss of lives by heeding to the early warning of NIMET and other States and Federal Orientation agencies.
The discussants bemoaned the fact that Governments had not been sensitive to the plight of Nigerians, therefore used the medium to call on Nigerian Government to revive, complete the Dams being constructed by the Federal Government in Adamawa State Nigeria in line with the understanding, agreement the country had with Camaroun before their Dams were constructed in 1977 as group traced the origin of flood menace in Nigeria as group alleged that Buhari's first Military Government stopped the construction then. DOPF therefore, appealed to the Federal Government to complete the project and as well construct more Dams to solve the problem of endemic flood menace in the country.
The said, "investigations revealed that the opening of the Dam in Camaroun after the water has reached the maximum level, in a larger quantity the rise had to flow down to Nigerian rivers, especially the River Niger and River Benue resulting to Flood menace in Nigeria and consistently caused unquantifiable loss of lives and property, diseases, pollutions in the country a case study of 2012, 2016 and 2022, an agreement as reached by Camarounian Government with Nigeria".
The discussants: Oyahkilome, Igudia, John Gold and other DOPF observers, while exploring various ways to solve the endemic flood menace that has ravaged Delta State, and Nigeria in general. DOPF leadership also, appealed to Governments all levels to put measures early enough, heed to the warning of NIMET, Orientation Agencies by mobilizing funds, partner with other critical stakeholders to build Camps for internally displaced Persons (IDP Camps).
The leadership has also urged the Governments to monitor the activities of the Flood Committees in the various IDP Camps to avoid politicians enriching themselves with the sorrows of other Deltans, Nigerians as this is in line with reports from victims. Also that States should construct their own Dams to curtail flood menace, Federal Government should as a matter of urgency dredge the River Niger and River Benue, media should stop undue glorification of politicians upon disbursement of relief materials to victims of flood, Governments to show proactiveness by empowering SEMA, NEMA early enough to curtail hazards to avoid further re-occurrence in Delta and Nigeria in general.