..As Commissioner For Youth Development, Hon. Ifeanyi Egwunyenga Enjoins Delta Youth To Key into Government Empowerment Programs.
…. Speakers Explore Challenges And Wayforward Towards Best Youths Re-orientation, Re-integration for Sustainable Development.
By Victor Bien, i Asaba
Governor Ifeanyi Okowa has urged Youths to be ready to ask questions through engagements, creating values and relate with people at all levels to meet the demands of the current generation, digital age.
Governor Ifeanyi Okowa made this remark today Wednesday, 10th day of August, 2022 at the Unity Hall, Government House, Asaba Delta State during the Celebration of International Youth Day, a Master Class organized by Delta State Ministry of Youths Development anchored on the theme: "Intergenerational Solidarity: Creating A World For All Ages".
His Excellency, Governor Ifeanyi Okowa who was a Special Guest of Honor at the event, ably represented by his Chief Economic Adviser, Hon. Kinsley Emu stated that, the Governor is sensitive to his environment, a Youth friendly Governor, while he urged the Youths to make good use of the opportunities the digital age has given them towards bridging generational gaps, making a difference, and promotion of sustainable and socio-economic development of the State and Nigeria in general.
In a welcome address by the Delta State Commissioner For Youth Development, Hon. Ifeanyi Egwunyenga thanked the Youths for coming out enmasse to be part of today's International Youth Day 2022 even as he urged Youths to create values for themselves and ensure that they key into various Delta State Government Empowerment Programs such as STEP, YAGEP and others.
The Commissioner while Commending the Youths for partnering with Delta State Government urged them to be patient with the older generations, learn from them and bridge that disconnect to achieve the objectives of this year's Celebration
Speaking at the event, the Director-General, Delta Bureau For Orientation, Mr. Eugene Uzum Esq. Who presented the keynote address stated that Youth orientation needs to be institutionalized for productivity, while he harped on the need for the Youths to shun social vices that is not capable of promoting nation building or positively impacting on their growth and development towards making a difference.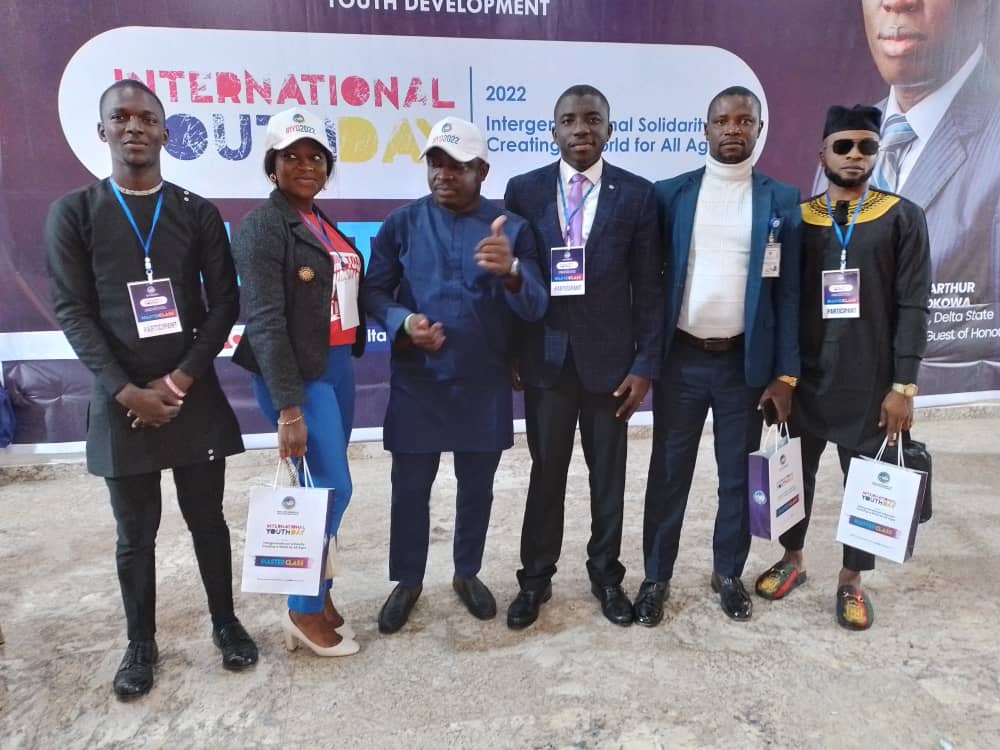 At the event, the International voice was added as a goodwill message came from the United Nations Secretary, Antonio Guterres, via zoom social media platform as he restates Commitment towards Creating programs that will bridge generational gaps for the Youths globally and a special office for the Youths at the International Headquarters in Geneva.
Also, the Chief Senior Special Adviser (SPOLAD) to Governor Ifeanyi Okowa on Political Matters, Rt. Hon Funkekeme Solomon commended the Delta State Government's efforts in ensuring that the Youths were carried along in terms of various Political appointments in the State, while he urged them to learn only those things that will contribute to theur overall development from the older generations and work towards impacting on younger generations positively for sustainable development.
One of the speakers at the event, Mr. Ekenem Isichei, the DG, Delta State Economic Summit Group, Director, Corporate Council of Nigeria, and CEO, ACIOE Commended the Youths for their efforts towards deepening their knowledge in this digital era, while he urged them to unite, learn more entrepreneurial skills capable of helping them to overcome the problem of unemployment in the country; for a life of self-reliance, self-employment and self-discovery.
In a separate interview, the Delta State Chairman, National Youth Council of Nigeria, Comrade Ambassador Kenneth Okorie then thanked Governor Ifeanyi Okowa for availing the Youths such opportunities to rediscover themselves even as he urged the Youths to shun social vices capable jeopardizing their chances of success in life. Some Youth leaders in the State who reacted to today's celebration of International Youth Day in Asaba commended the laudable global celebration of event.
The event was attended by various Youth leaders from both organized and unorganized Youth groups in the State (Leadership of National Youth Council of Nigeria, Delta State Chapter) and other Youths groups from the 25 Local Government Areas of Delta State in their large numbers, which witnessed some video documentary, panel discussions, interactive session on the theme: "Inter-generational Solidarity- Creating A World of All Age".
The event came to a close with a vote of thanks presented by the permanent Secretary, Delta State Ministry of Youth Development as he commended the State Government led by Governor Ifeanyi Okowa for joining the global community this year's 2022 International Youth Day, which he said the lessons learnt during the master class will help the Youths of the State to develop themselves towards Socio-economic development and sustainable development of the State.