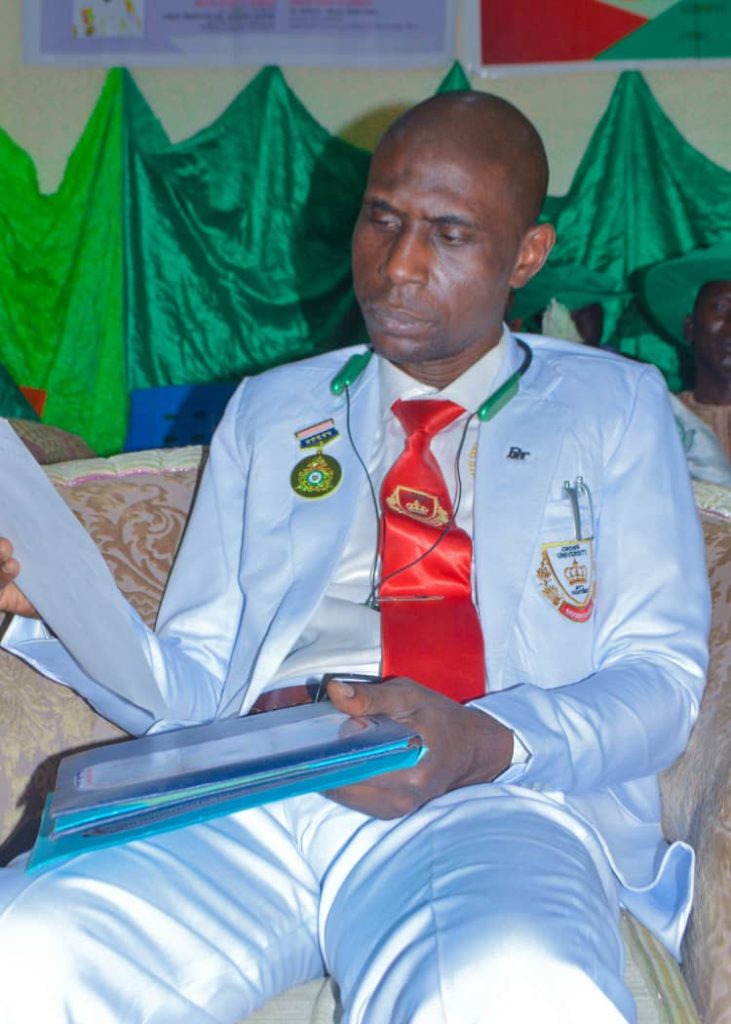 ……..Int'l Education: CUICI VC Commends Top European Univesity, GEPEA On Global Recognition
……..As GEPEA Univesity VC Awards UNESCO Laureate As Chief Adviser, Member Int'l Advisory Committee & Life Fellow
……GEPEA University Leadership Tasks Prof Sir Bashiru Aremu On Advice Towards Best Global Practices In Int'l Quality Education.
By Victor Bieni, Asaba
Prof Dr Rejaul Abadin, FCMAN, FGEPEA, The President & Chancellor of Global Educational & Professional Excellence Academy (GEPEA), an accredited top European International apex University for Higher Education, GEPEA, has awarded Prof Sir Bashiru Aremu, UNESCO Laureate and Crown University Int'l Chartered Inc., USA with its teaching hospital campus located in Santa Cruz Province, Argentina, South America, and other partners campuses at government regulated Universities worldwide and online operation as "Honorary Chief Adviser, Member Int'l Advisory Committee & Life Fellow of GEPEA University.
UNESCO Laureate, Prof Sir Bashiru Aremu made this disclosure in a press statement duly signed by him today being March 30, 2023, which was made available to some group of Journalists in Asaba Delta State capital by UNESCO Laureate's Executive Assistant On Media, Publicity and Communication Matters, Comrade Sir Bieni Victor Emenike as Aremu commends GEPEA University authority on global recognition.
GEPEA provides extremely exceptional, distinguished continuing higher education and prestigious awards via open access to all adult individuals located around the world. From its central Europe office cloud campus to the student's doorstep via distance learning or offline training for academic & professional diplomas, degrees, awards, honors, trainings, certifications internationally.
The President & Chancellor, GEPEA University, Prof Dr. Abedin alongside the Secretary/Registrar, GEPEA University, Ms Tamanna Suria Miss had in the letter of awards to UNESCO Laureate, Prof Sir Bashiru Aremu as "Honorary Chief Adviser, Member of Jury, Int'l Advisory Committee & Fellowship Life Member" stated: H.E, UNESCO Laureate, Respected Prof Sir Bashiru Aremu, GEPEA International Committee is highly pleased to nominate you for the prestigious position of Honorary Chief Adviser (International Advisory Committee, GEPEA University, Europe) and Awarded Fellowship (FGEPEA) status, Life Membership Award. The FGEPEA status is freely entitled to use right after your name".
" Once again, GEPEA international Board is highly cheerful to have you on GEPEA Board/Committee. Hope your innovative idea, modern strategies, profound knowledge- guidelines, dedication, and professionalism will help us to achieve its goal and fulfill its mission and vision successfully in the forthcoming days.Have a wonderful time always!"
According to UNESCO Laureate, upon presentation of the Honorary awards, GEPEA University authority had stated: "Be it known that UNESCO Laureate, Prof Sir Bashiru Aremu, FGEPEA having complied with all the requirements of the University is hereby nominated the Chief Adviser h.c and awarded Fellowship Life Member, FGEPEA, status entitled to use after name. And entitled to all honors, rights and privileges thereunto appertaining in witness thereof this degree duly signed has been issued, presented on this day being March 28, 2023".
The management of GEPEA University is governed under CAE 85420 ( Ensino Superior, i.e Higher Education). GEPEA which specializes in Univesity and Polytechnics Education; vocational and professional education for all categories of students globally. The global higher education had tasked Prof Sir Bashiru Aremu on professional advice towards best global practices in International quality education.
The statement by UNESCO Laureate reads in parts: "I must commend GEPEA University authority for this great honor, global recognition as awarded to me earlier this week. By the special grace of God, I, Prof Sir Bashiru Aremu promises to do my best, give the needed support, provide the needed advice, expertise with decades of experience for the good image of GEPEA University. Also, I promise to contribute towards the promotion of global best practices for Int'l quality education, Professional Excellence as Chief Adviser, Member of advisory Council, Jury Board of this reputable, top European GEPEA University".
"I also commend the founding fathers of GEPEA University, other awardees, Members of Jury Board on their Successful awards, appointments. No doubt, Global Educational & Professional Excellence Academy, GEPEA University, Europe was established in line with the global Education cultures supported by United Nations Articles 26 (1) and UNESCO.that everyone has right to education, that elementary education shall be compulsory, technical and professional education shall be made available and higher education shall be made accessible to all".
"Global Educational & Professional Excellence Academy (GEPEA University), Europe believes that honor is an indispensable part of how to create a global c Community, promote innovative research, scientific findings, rigid work and dedication of all such talented individuals. GEPEA Europe core values includes amongst others are: Excellence, Academic freedom, integrity, curiosity, innovation, mutual respect, personal accountability professional image".