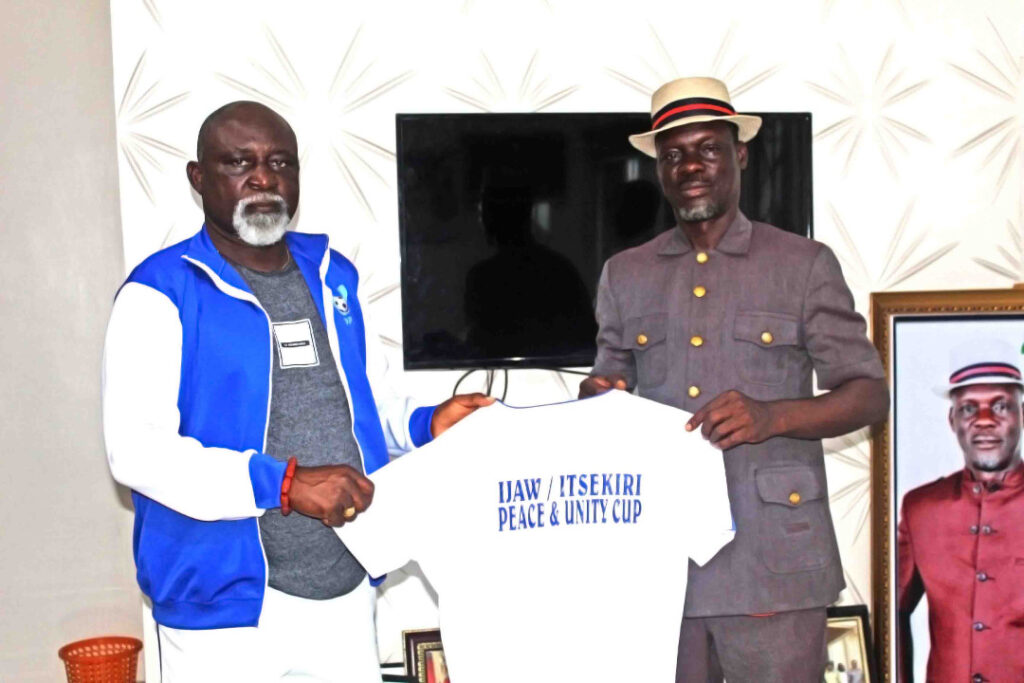 ….UN+SDGs 16: CEPEJ To Mark International Day Of Tolerance With Peace Cup IN Warri-Delta As MULADE Unveils JERSEY.
……Ijaw/Itsekiri Peace & Unity Tournament 2022: MULADE Says, Sports An Avenue To Promote Peaceful Co-existence .
By Victor Bieni, Asaba
Niger-Delta Activist, and National Coordinator, Centre For Peace And Environmental Justice (CEPEJ), Comrade Chief Sheriff Mulade has enjoined the Local Organizing Committee (LOC) members to discover local talents for the forthcoming November 16th, 2022 – December 3rd, 2022 Ijaw/Itsekiri Football Peace And Unity Tournament, while he stated that CEPEJ will use sports event as an avenue to showcase the current existing peaceful co-existence between Ijaw/Itsekiri ethnic Nationalities of Delta State, Nigeria.
The media learnt from the reno wned Niger-Delta Environmental, Human Rights and Peace Advocates, Comrade Chief Sheriff Mulade in press statement made available to some group of Journalists in CEPEJ's branch office, Asaba, Delta State capital today being on Friday, 14th day of October, 2022 as he noted that his organization's Peace & Unity Cup, Tournament event will also be an avenue to celebrate the United Nations International Day of Tolerance.
Mulade, a Niger-Delta Peace advocate has stated that, the event will take place in two Ijaw/ Itsekiri Communities- Benikrukru and Ugborodo to show that the two Warri-Delta ethnic groups are living in peace, which he said is strategic towards achievement of set goals on building bridges of Unity, Socio-economic development and grassroots talents in sports.
He added that the event which he said is anchored on peace-building initiatives is in line with United Nations Sustainable Development Goal 16, which encompasses: Peace, Justice and strong institutions.
Chief Mulade stated that on 5th of October, 2022 he Unveiled the Jerseys to the LOC for members to Kick-start the Football Competition, that is, CEPEJ's 2022 Peace Cup for Ijaw/Itsekiri ethnic Nationalities of Delta State on the said date. He also commended the the Local Organizing Committee (LOC) members for putting up hardwork after their emergence. He noted that Committee was set up by him two months ago, on Tuesday, 20th September, 2022 and the consequent unveiling of Jersey for the Football competition.
Those LOC Members MULADE charged on using the sports avenue to promote, Peace, Unity and development between IJAW/ITSEKIRI ethnic Nationalities included amongst others: Hon. Kenneth Nwaomucha, Chairman; Navy Commodore Kingdom Itoko, (Rtd), Secretary; Mr. Matthew Itsekure, PRO; Mr. Victor Tonlagha, Director of Finance and Engagement; Omoboye Abosode, Director of Welfare; Mr. Azuka Chiemeka, Director of Media and Publicity; Amb. City Ojouworo, Director of Mobilization; Hon. Raymond Pirah, Director of Security; Dr. Jeffrey Wilikie, Asst. Director of Finance and Engagement; Mr. Philemon Ugedi, Asst. Director of Security; Mr. Bright Tortor- Benikrukru Venue Coordinator; Hon. Aboyewa Ikpoto, Director of Transport/Logistics; Hon. Bethus Ayotan, Asst. Director of Transport/Logistics; Mr. Wison Ejeh-Ugborodo Venue Coordinator; and Hon. Paul Kirifide, Organizing Secretary.
According to him, the highlights of the event which took place at Africa for Peace Centre, CEPEJ's Head Office, Ugolo-Okpe Drive, near Warri, Delta State was his presentation of the Jerseys to the committee members, followed by group photograph.