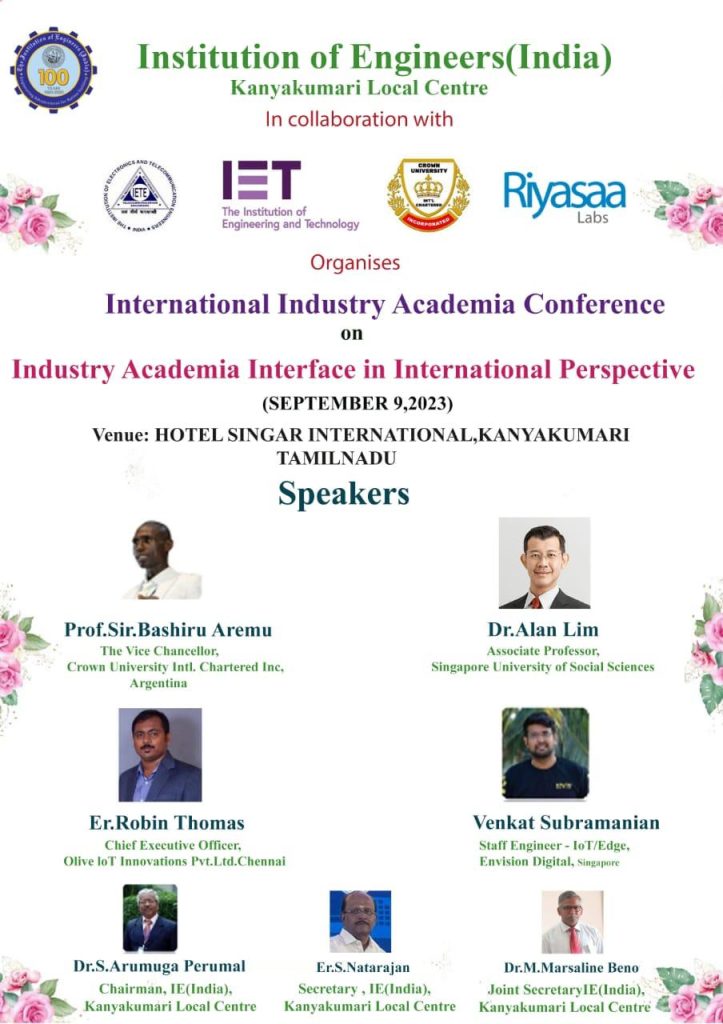 ….IIAC 2023: Aremu Commends IE, India As CUICI, Partners On Industry Interface
……..As UNESCO Laureate Advocates For Utilization Of ICT On E-learning By Students.
…….VC CUICI Harps On The Importance Of Time, Technology & Workload, The Effects Of E-learning On Students
By Victor Bieni, Asaba
The Vice-Chancellor, Crown University International Chartered Inc., USA with its teaching hospital campus located at Santa Cruz Province Argentina, Brazil, South America and other partners Constituents Campuses In government regulated Universities worldwide and online operation, UNESCO Laureate, H.R.H Duke of the Kingdom Of Atlantis in Singapore, Prof Sir Bashiru Atemu, who is also a member Board of Trustees in different Universities globally, has commended the management of Institution of Engineers (IE), India, Kenyakumari Local Centre on partnership with Crown University as groups yesterday, September 9, 2023 held International Industry Academia Conference.
Prof Sir Bashiru Aremu, H.R.H Duke of The Kingdom Of Atlantis, Singapore made this remark in a press statement personally signed by him which was made available to Journalists in Asaba, Delta State capital by UNESCO Laureate's Executive Assistant On Media Publicity and Communication Matters, Comrade Sir Bieni Victor Emenike today being on Sunday, September 10, 2023 as CUICI VC, USA commended development.
Prof Aremu while commending the management, members of IE, India on collaboration towards the fulfilment of the objectives of International Industry Academia Conference anchored on the theme: "Industry Academia Interface In International Perspective". He harped on the importance of time, technology towards reducing workload as well as the effects of E-learning on students.
Prof Aremu also commended the success of the conference which was held virtually and physically at Hotel Singar International, Kenya Kumari Tamilnadu in India. He Commended the contributions of the following speakers during the International Conference: Dr. M Marsalin Beno, Joint Secretary, IE, India, Er. S. Natarajan, Secretary, IE, India, Kenyakumari Local Centre, Dr. S. Arumugal Perumal, Chairman, IE (India), Kenyakumari Local Centre, Dr. Alan Lim, Associate Professor, Singapore University of Social Sciences, Venkat Subramanian Staff Engineer-IoT/Edge Envision Digital Singapore, Er. Robin Thomas, Chief Executive Officer, Olive IoT Innovation, Pvt. Ltd Cheanal".
The statement by UNESCO Laureate which he used medium to narrate his research work on the importance of the use of ICT on E-learning by students to reduce workload, time reads in parts: " I, UNESCO Laureate, HRH Duke, Prof Sir Bashiru Aremu in the just concluded India international Conference emphasized on utilization of ICT on E-learning by Students. Also, on the importance of Use of E-learning and its Effect on students.
The purpose of this study is to measure the factors affecting the use of e-learning and its effect
on students on the base of three variables: Time, Technology, and Workload".
" The Design/methodology/approach: Being descriptive study, survey method was adopted for data collection
to find out the factors. A sample of many universities in the world 100 students was selected for the survey. Data was analyzed by using Cronbach"s Alpha, correlation and regression in SPSS software. The Findings: From our study it is found that the independent variables, time, technology and workload have great influence on dependent variable e-learning. The Keyword: e-learning, time, technology and workload".
In these days internet and computer has become a major part of our daily life. Sharing our views ideas and our
lives by using internet with other people, has change a lot in the way we work, study and spend our free time. The decision to write this research paper relating to observe and find effect of e-learning means computer and internet on students, Delivery of education including the activities of instruction, teaching, learning and assessment through various electronic media is called E-
learning. E-learning helps the learner to get knowledge at a distance through internet. E-learning enables people
to learn at any time and at any place, for this we need a computer and an internet connection". According to current modern technology".
"Delivered or enabled experience by electronic technologies including the
internet. Internet and extranet breaks the limitations of time and space and also creates many benefits, including
reduced cost, regulatory compliance, meeting business needs, retraining of employees, low recurring cost and
customer support. In health department e-learning also play his role, according to Yu and Yang, (2006) due to
rapid changes in health care environments nurses constantly need to update their professional knowledge and
skills to ensure the quality of health care provision".
"Since the establishment of the Internet, and educators to take advantage of new technologies not only for research purposes or for marketing of their institution, but as a means of offering courses and even all online degree programs and to overcome the barriers of time and distance that can be otherwise prevent students from attending graduation or continue. Despite the additional advances in technology, Internet technology alters the traditional relationship between student and teacher personal care for "a number. The efficiency of Internet technology is likely to be less effective than a traditional classroom".
"According to various research
Reporting on a number of international studies that the mere use of technology in
the classroom does not guarantee learning improvement. Use of information and communication technology for learning process is called E-learning. E-learning is a term which is used to describe the online education and web
based training etc. E-learning has become rapidly popular learning approach in
higher educational institutions due to rapid growth of internet technology. E-learning is a process of using
information and communication technology (ICT) to enhance and facilitate teaching and learning".
"Actual use of
e-learning has significant effect in student's academic performance. E-learning use is associated with increased
student's academic performance. In these days technology is a tool used to remove geographical barriers and facilitates everybody to learn anytime and anywhere in the world without the presence of the lecturer. The main objectives
of e-learning is to increase accessibility of education and reducing the costs and time as well as improving student's academic performance".
"This approach of learning facilitates different students at different continents to
attend the same classes almost at the same time. In these days technology is become a medium of teaching and learning without being at university campuses. E-learning has become an increasingly popular learning approach in higher educational institutions due to the
rapid growth of internet technologies".
"Use of information and communication technology to enhance and facilitate teaching and learning is called E-learning. According to contemporary issues in our society or In this modern age, E-learning has a competitive advantage and many universities have
implemented it and this has impacts on student's performance or GPA. However, still there are other universities".