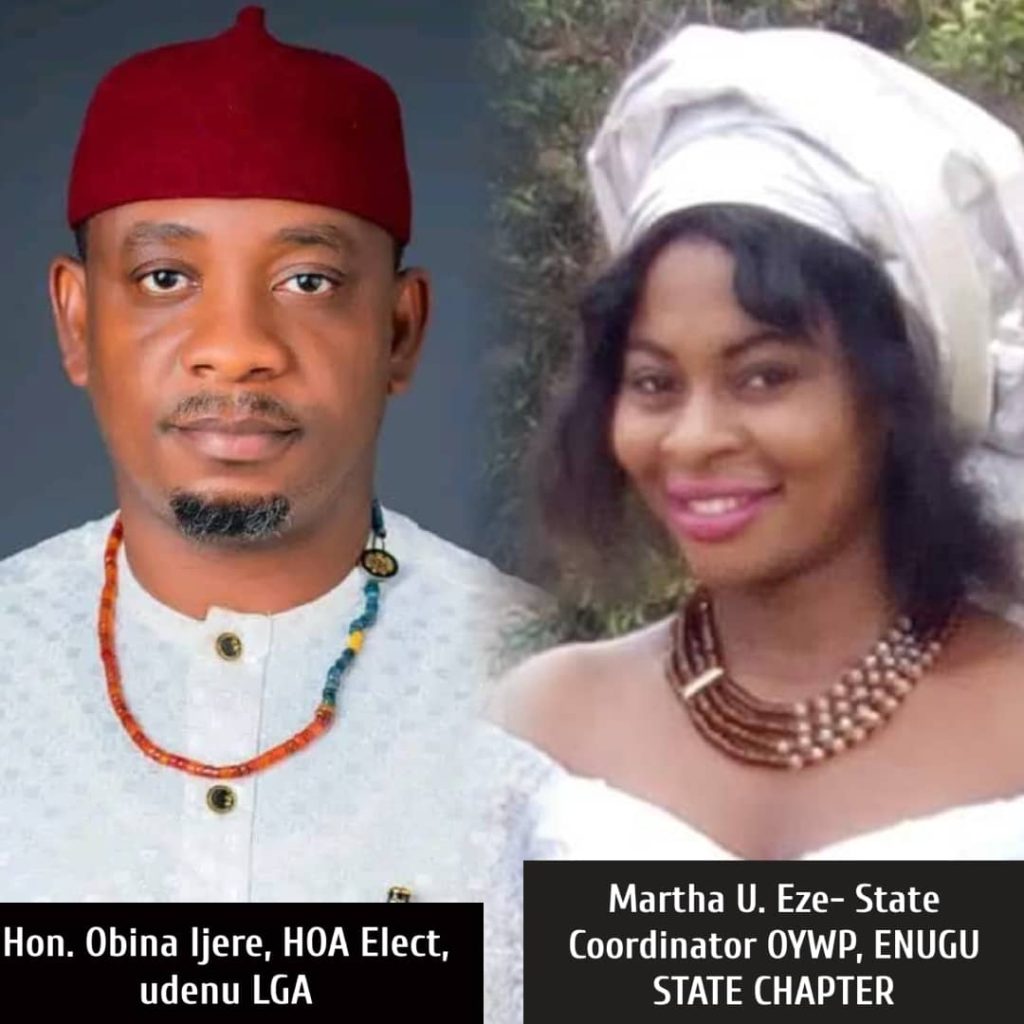 2nd May, 2023
The State Working Committee,
Labour Party, Enugu State
No. 7 Edingbur Street,
Ogui New Layout,
Enugu State.
Through:
The State Secretary,
No. 7 Edingbur Street,
Ogui New Layout,
Enugu State.
WHY LABOUR PARTY IN ENUGU STATE SHOULD NOT TOY WITH THE GOLDEN OPPORTUNITY TO PRODUCE THE SPEAKER OF THE STATE HOUSE OF ASSEMBLY.
When the Obidient Movement hit Enugu State like a wild fire it was difficult for progressive minds not to get involved. In the first place, the State had suffered massive misrule by State governors since 1999 and the culture of impunity had raged unabated, making people to believe that mis-governance was a norm that must be endured. Secondly, the governed had become very docile as nobody was willing to challenge the government to do the right thing. Therefore, when the opportunity came for us, we keyed into the OBIDIENT MOVEMENT, we founded the "OBIDIENT AND YUSUFUL WOMEN IN POLITICS". As it were, our political pressure group participated in the 2023 general elections in Enugu State in all facets and contributed to the unprecedented success recorded by the LABOUR PARTY in Enugu State. Today, Enugu State Labour Party has 14 legislators-Elect as against PDP which has 10, making the Labour Party to have a clear majority in the Enugu State House of Assembly.
We wish to use this medium to congratulate all Labour Party Senators-elect, House of Representatives Members-elect and House of Assembly Members-elect under the LP platform for their victories at the polls while we wait for the court to determine the true winner of the Governorship election. We wish also to commend the State Working Committee (S.W.C.) of the LP led by the State Chairman Hon Casmir Agbo for his tenacity, doggedness and steadfastness in ensuring the growth, development and victories of the Labour Party in Enugu State. History will be so kind to you Mr Chairman. Worthy to note also is our formidable Governorship Candidate, Barr. Chijioke Edeoga for his rigorous and issue based campaigns during the election period. Sir, you are a winner, we strongly believe that there will be light awaiting for us at the end of the tunnel.
WHY IT HAS BECOME EXPEDIENT FOR THE LABOUR PARTY TO ZONE THE SPEAKERSHIP TO ENUGU NORTH.
It is important to note that the current assumed winner of the 2023 Governorship election and Governor-elect is from Enugu East while we are demanding the speakership to be zoned to Enugu North. Even within Enugu North, the Udenu people domiciled in Udenu local Government Area are the most marginalized people in the District. Now that Engr. Ijere from Udenu local government constituency has emerged Legislator-elect, fairness demands that he be elected as Speaker.
THE CASE FOR ENGR OBINNA IJERE FOR THE POSITION OF SPEAKER , ENUGU STATE HOUSE OF ASSEMBLY.
Since the current Political dispensation which started in 1999, this is the first time that an opposition Political Party will come thus far in an election; grabbing 14 legislative seats under the Labour Party platform and even pose a formidable challenge to the PDP Governorship candidate in the election. This is also the first time that the Udenu local government constituency will produce a legislator under the banner of the LABOUR PARTY. Engr. Obinna Ijere, the Udenu local government constituency Legislator-elect has become a champion of sorts for the Udenu people because he is youthful, suave, urbane, highly intelligent, outspoken, bold, talented and focused. He is also calculative, reserved, fearless, determined, dogged and can sometimes be very blunt. His characteristic bluntness is often misconstrued to be arrogance, but the truth is that Engr Obinna Ijere says it as he sees it.
The cap to become the SPEAKER of the 8th Assembly of the Enugu State House fits Ijere because he possesses all the qualities of a Speaker and the current Speaker, Edward Uchenna Ubosi is from Ukanu in Enugu East. It is no news that the past Speakers of the Enugu House of Assembly have been roundly criticized for their shambolic performances in office as they have been nothing but rubber stamps to the Executive and also presiding over a docile and rudderless Legislative House. For quite some time now, the Udenu people have been crying marginalization, neglect by government and abandonment in the scheme of things. It would therefore amount to justice, equity and fair play if the Speakership is zoned to Enugu North. Also, as the Udenu people have been marginalized over time, Engr. Ijere who is the Legislator-elect from the Udenu Local Government constituency should naturally be considered for the Speakership of the Enugu State House of Assembly. Some people may argue that Engr. Ijere is a first time Legislator but it has been proven that sometimes first time Legislators coming with very bright and untainted ideas can make good Speakers. For instance, the current Speaker of the Delta State House of Assembly, Rt Hon Sheriff Oborevwori became Speaker of the Delta State House of Assembly as a first time Legislator and also becoming the longest serving Speaker of the Delta State House of Assembly. He is currently the Vice Chairman of Conference of Speakers in Nigeria. Today he is the Delta State Governor Governor-elect from the 2023 Governorship election.
In terms of qualification, experience and exposure, Engr. Obi Ijere stands very tall. He holds Bachelor of Engineering (BEng) Electronic Engineering- University of Nigeria Nsukka (2000-2006), Master of Science (MSc) Engineering Management-University of Greenwich (2010-2011). Engr. Obinna Ijere is also a Member-Institute of Engineering and Technology (IET), Member-Society of Petroleum Engineers (SPE).
For 13 years and ten months he was a Senior Systems Analyst in the University of Nigeria Nsukka (July 2009-present day). He was also a clearing assistant in the University of Greenwich from May 2010 to October 2011 as well as being an Aircraft Material planner in Afrijet Airlines Ltd from April 2008-July 2009. At a time, he was a consultant lecturer in Digital Bridge Institute, Director Technologies service and quality in Citadel Security Automation Ltd and a Senior Systems Analyst in the University of Nigeria Nsukka. In 2022 he played a pivotal role in representing the interest of Enugu State by facilitating strategic promotion of information on Trade and Commerce and supporting the positive effects of European investment in cashew nut project.
A peep into Obinna Ijere's manifesto will reveal an in-depth knowledge of his terrain. Ijere has stated inter Alia in his manifesto: (1) I will ensure we adopt a Legislature that guides inclusive education in Enugu state (2) I will propose and sponsor a bill for the upgrading of Obollo Afor, Orba and some other satellite towns to urban status. This will attract basic amenities expected of an urban town and help in reducing rural to urban migration (3) I will seek funding from Governments, foreign and local private investors and international organizations for projects in our constituency; such as the development of cashew and banana agricultural value chain and investments in developing tourists heritages such as Ezimo or Ozi Ebonyi waterfalls for economic boom. Ijere says that one of the duties of the Legislature is to approve appointments and nominees of the Governor. He promises that if Labour Party candidates are roundly elected into all positions, they will be bringing to an end the era of mediocrity by ensuring that "round pegs are fixed in round holes". Ijere also avers that the Labour Party has become more than just a Political Party but a movement, a real movement, an Obidient and Yusuful Movement or an Edeoga movement.
From the foregoing, it is crystal clear that Engr. Ijere will change the narrative and provide a paradigm shift from the current lethargy in Legislative process to that of dynamism and realism if elected Speaker of the Enugu State House of Assembly.
We therefore call on the State Working Committee of Labour Party, Enugu State, all LP leaders and Stakeholders to see reasons with us and make our great Party proud by restoring the dignity of our dear State again. This is also the time for all sons and daughters of Enugu North and especially Udenu people to rise in support of their son who has blazed the trail by becoming the first Legislator from an opposition Political Party, the Labour Party with a promise to bring succor, unprecedented development and peace to his constituency and Enugu State at large as can be gleaned from his declaration speech on 10th August, 2022.
While we wait to reclaim our stolen mandate at the Governorship tribunal, let us not forget our adage which says that- "a bird at hand is worth millions in the bush" ("nkem ji ka").
Long Live Labour Party, Enugu State!
Long Live Enugu State!
FOR: OBIDIENT & YUSUFUL WOMEN IN POLITICS, ENUGU STATE CHAPTER.
PRINCESS MARTHA UDOKA EZE
STATE CO-ORDINATOR
08135843812
Cc:
Hon. Casmir Agbo, Labour Party, State Chairman, Enugu State,
Barr. Chijioke Edeoga, 2023 Labour Party Governorship Candidate, Enugu State
Hon. Obi Ijere, State House of Assembly-Elect , Udenu LGA, Enugu State.