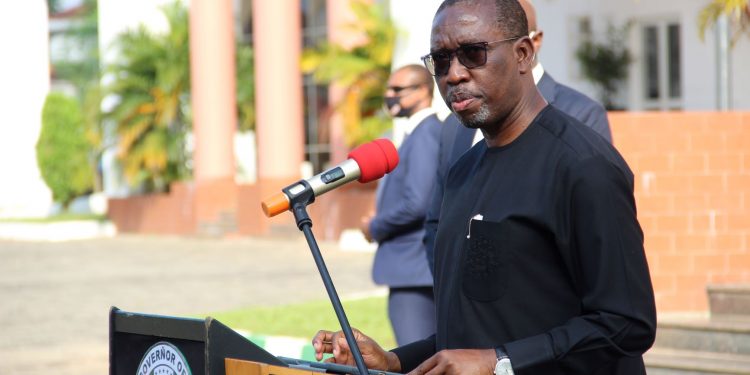 … As Group Says, Governor Okowa's okPerformance In Education Sector Has Improved The Demands of 21st Century Marketplace.
By Victor Bieni, Asaba
The President-General, Delta Youth Coalition (DYC), Comrade Chibuzor Agunwa (A.K.A Mr. Dash), has Commended the Executive Governor of Delta State, and PDP Vice Presidential Candidate for the 2023 general elections in Nigeria, Sen. Dr. Arthur Ifeanyi Okowa for his multi-dimentional, globally competitive approaches used in transforming Education Sector to a new momentum in the State; and timely intervention by improving the standard of education through the provision of adequate funding and essential facilities, which is a as major diagnosis of the problems of Education in Nigeria.
DYC Boss made this remark today being on Monday, 5th Day of September, 2022 while fielding questions from some group of Journalists at the group's National Secretariat in Asaba, Delta State capital as he stated that the Governor's exploits in Education Sector is in line with National Policy In Education, State goals, Smart; Stronger Delta Agenda of his administration.
He noted that, the achievements recorded by Governor Ifeanyi Okowa in Education Sector: Primary, Secondary and Tertiary Institutions, which he said had promoted high quality Education in the State, just like he is doing in other critical economic sectors such as health, environment, Agriculture, physical Infrastructures, human capital development, Youth Development and others, targeted at creating wealth and social inclusion.
Speaking to newsmen, Comrade Chibuzor Agunwa (A.k.a Mr. Dash) sees Education as a purposeful activity directed at achieving certain aims, such as transmitting knowledge, fostering skills, character and traits. He sees Education as a discipline that concerned with methods of teaching and learning in schools, school-like environment. He also, sees Education as the process of facilitating learning, acquisition of knowledge, skills, values, beliefs and habits.
The business mogul turned politician stated, amongst other numerous achievements recorded by Governor Ifeanyi Okowa in Education Sector, that His Excellency's establishment of strengthening of different Education Boards and establishment of Ministry of Primary Education is another great testimonies of his administration. Also, that from reports available, that over sixteen thousand primary school teachers has benefitted from Delta SUBEB's on its Skills manpower development; establishment of New Teachers Development Centre with modern facilities; promotion, training and retraining of teachers, establishment of new primary schools, renovation of thousands of classroom, administrative blocks remarkable improvement in the provision of sports and Agricultural facilities in Schools, improved quality primary teaching and learning processes and environment as well ninety percent increase on the enrollment of primary school pupils in the State.
He added that, due to the growing population and Infrastructure needs, quest for conducive environment for teaching and learning for the enthronement of quality Education, that Governor Okowa's Educational exploit did not only end in the basic Education where over additional forty-eight schools were established to bring a total of over One thousand two hundred public primary schools four hundred and sixty-six public Secondary Schools, which he said is the highest in the country, Infrastructural interventions, Infrastructural audit, mapping to address critical challenges avoid duplication of projects and ensure the use of inclusive dimensions towards quality Education provision.
The astute Politician stated that, Delta State Government Commitment to quality standards of education has positively impacted on Secondary School Students, leavers and drop-outs in numerous areas. He has opened up centres for non-formal Secondary Education through Continuing Education Program. This now afforded children who have no opportunity after primary school to continue their Education. He has also, promoted entrepreneurial Culture amongst Youths to checkmate high rate of unemployment amongst University graduates in Nigeria, thereby preventing social ills and joblessness.
The seasoned Youth leader whose group's structure spreads across the three Senatorial Districts, the 25 LGAs and entire political wards of Delta State, also stressed that, in Secondary Education Sector, that the Governor had replicated his numerous achievements in the areas of: A number if schools in dilapidated conditions have received facelifts across the State, funding interventions; provision of Infrastructures; establishment of Teachers -Development Centre at Owa-Oyibu to train and retrain teachers with modern equipment: Laboratories, Libraries, Conference rooms, Hostels, Cafetains, Skill Acquisition Centres, a capacity of 1,500 persons and improved quality of teachers at all levels of Education; other Educational facilities such as Electric-power generators, computers, adequate and quality teachers, conducive environment for teaching and learning processes just like in primary School Education Sector.
According to DYC Boss (A.k.a Mr. Dash) who dwelt more on various achievements recorded by Governor Ifeanyi Okowa in Education Sector, he said: "In terms of Education Sector, Governor Okowa's Smart, Stronger Delta Agenda has enhanced the Socio-economic development of the State on the basis of the these economic indices such as productivity, discipline, harmony and a cohesive society".
"Delta State Government has been able to put in place globally acceptable competitive measures on quality Education such as IT-driven teaching, quality teachers, quality learning and vast administrative platforms, new and improved Infrastructures, legislation, Education policies and condusive environment for learning, provision of counterpart funding for acessment of grants to Delta SUBEB, construction and renovation of new dilapidated Structures fir effective learning system and quality Education at all levels in the State"
"Governor Ifeanyi Okowa worried by the high rate of unemployment, especially amongst the Youths has strategically addressed the very foundation with the re-awakening of technical and Vocational Education in the State. His tenure saw the establishment of Vocational and Technical Education Board, Ministry of Vocational and Technical Education backed by legislations".
" Apart of the use of STEP, YAGEP, GEEP, PPSP, Tractorization, Micro Credit Model in the State Government's medium term development plan; revamping of the initial six technical colleges by turn them into vocational skills centres in the entire State, more technical colleges, Vocational and Skill Acquisition Centres has also been established across the three Senatorial Districts, 25 LGAs of the State. All these factors has led to increase in accreditations, number of students and admissions in the State", Comrade Chibuzor Agunwa (A.k.a Mr. Dash) said.
"In tertiary education, Apart from the existing State owned University, Delta State University, Abraka, Polytechnics and Colleges of Education, now improved with modern Infrastructures, Educational facilities in this Governor Ifeanyi Okowa's regime. Most importantly, as at last year 2021, three existing Institutions were upgraded to Universities to broaden Deltans' access to University Education for our bright students who do to limited space are unable to gain admission. The three upgraded Universities: Dennis Osadebay University, Asaba, University of Delta, UNDEL, Agbor, Delta State University of Science and Technology is currently operational, provided with the needed Infrastructures, Educational facilities as admission and academic exercises is ongoing after due accreditations by NUC".
As evidence of Governor Ifeanyi Okowa's commitment towards the promotion of quality Education in the State, Comrade Chibuzor Agunwa had quoted the Governor to had said After inspecting facilities at the faculty of Engineering and Environmental Sciences at the Owa-Alero Campus of the University of Delta, UNDEL, Agbor: " We need to invest more funds in Education, no doubt about that; more funds in terms of Infrastructure; more funds in terms of human resources; more funds in terms of equipment that is needed and ensure that we have full internet services in every University".
"I think it requires a lot of work and a lot of prioritization to actually deal with the sectors that are most important, All sectors are important, but some are definitely more important than others".
Comrade Chibuzor Agunwa (A.K.A Mr. Dash) then used the medium to admonish Governor Ifeanyi Okowa on the need to add Faculty of Pharmacy as one of the Faculties in University of Delta (UNIDEL), Agbor so as to help in building opportunities, or the bridging the gap in the pharmaceutical sector as one of the major foundations in promoting paradigm shift for rapid industrialization agenda in Delta State and a focus for better Nigeria or National development.