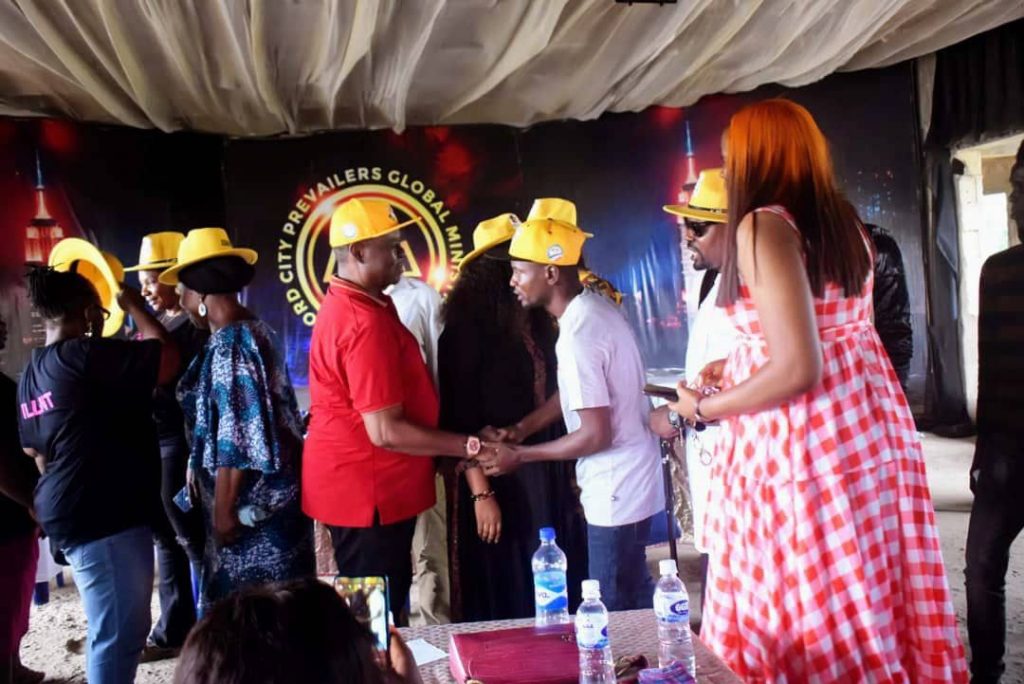 …..Delta Guber 2023: Isoko Nation Entertainers and Youth Endorses Sheriff/Onyeme Tickets
….As Entertainment Group Practitioners Tasks Delta PDP Guber Candidate On Establishment of Event Centres In Each of Delta 25 LGAs To Support Practitioners.
By Victor Bieni, Asaba
Ahead of March 18, 2023 Gubernatorial and States Assembly Elections in Delta State and Nigeria in general, a group under the aegis of Isoko Nation Entertainers and Youth has endorsed the Delta 2023 Gubernatorial Candidate of Peoples Democratic Party (PDP), Rt. Hon. Sheriff Oborevwori, Deputy Governorship Candidate, Sir Monday Onyeme as group appealed to Isoko, Deltans to vote enmass for PDP for continuity of prosperity and sustainable development of Delta State.
The media learnt this from the Convener and Special Assistant (SA) to Governor on Political Matters, Comrade Uyero Erarawewho Jnr, today being on Friday, March 10, 2023 as he reacted to the media questions by some group of Journalists in Asaba Delta State capital on the outcome of the group's yesterday's enlarge meeting and endorsement of Sheriff/ Onyeme Guber tickets at Oleh, Isoko South LGA.
Entertainers are those who jobs are to entertain audiences. Examples of entertainers, or entertainment practitioners are Artistes, Comedians, Actors, Actresses, Musicians, Clowns, dancers and etcetera. The entertainers in Isoko Nation, Delta State noted that they are more comfortable with Sheriff/ Onyeme tickets to govern Delta State.
The group of Entertainers who are also Obidient Youths from Isoko Nation in their large numbers while appealing to Isoko, Deltans and other OBI-DIENT Youths to vote for PDP, Sheriff/ Onyeme in next week's Gubernatorial elections, the entertainers and OBI-dient Youths stated that, the association believes that, "Sheriff/Onyeme tickets is the best thing that had happened to Deltans as group noted that, the Delta PDP Guber Candidate will Excell in his M.O.R.E agenda by advancing Delta State to greater prosperity if. elected come next week, March 18, 2023".
According to the Convener, Ambassador Uyero Erarawewho Jnr, the group had highlighted the various achievements recorded by PDP administration under Governor Ifeanyi Okowa in different sectors of the State economy, especially in Culture and Tourism sector as concerns the practitioners. Also, the group had stated that, they were propelled; knowing the capability, antecedents of the present Speaker of Delta State House of Assembly, Rt. Hon. Sheriff Oborevwori and his contributions to the State's economic progress, political stability, peace and security.
The group leaders led by Ubara Obaro and Tessy Mukoro Daniels who spoke during the meeting endorsed the Delta PDP 2023 Gubernatorial Candidate, Rt. Hon. Sheriff Oborevwori/,Sir Monday Onyeme tickets as group also used medium to appeal to Deltans to Vote for PDP Governorship Candidate, Rt. Hon. Sheriff Oborevwori/Sir Monday Onyeme and other party's Candidates for State Assembly in the forthcoming March 18, 2023 general elections in Delta State therefore tasks them on establishment of Events, Entertainment Centres in each of the 25 LGAs of Delta State if elected to govern Delta come this year 2023.
The event was graced by party leaders, political stakeholders in Isoko Nation, which included amongst others are: The Executive Chairman of Isoko South LGA, Hon. Victor Asasa, Okolo Hessington Chimennma, Executive Assistant on Youth Moblization and deputy legal adviser PDP, Mrs Mary Erijo, Mrs Princess Oghale Oweh . Other Entertainers, and Entertainment Practitioners who lend their voices at the endorsement of Delta 2023 PDP Gubernatorial Candidate Sheriff/ Onyeme tickets included amongst others are: Nollywood Actor, Asuo Felix Isaac spoke on behalf of Actors; DJ Blizz spoke on behalf of DJs, Mc 2Gifted spoke on behalf of the MCs, Mc Anoted Aboki spoke on behalf of Comedians as group pledges support to Delta PDP Gubernatorial Candidate in this March elections.