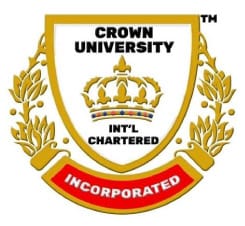 ……..CUICI VC Commends Indian Constituents Campus' Leadership As Varsity Bags ISO Certification
……..UNESCO Laureate Highlights The Importance Of ISO Certification In International Education
……..His Royal Highness (H.R.H) Duke of The Kingdom Of Atlantis in Singapore Commends Prof Dr. K. Mahammad Rafi On Hardwork
By Victor Bieni, Asaba
As part of efforts towards the promotion of customer-centric approach that seeks to provide quality research, innovation and educational services for organizational Standards so as to enhance students satisfaction, strengthen stakeholders confidence, foster continuous improvement in global, international education provision, IEQAB's Five Stars Global Professor and Vice-Chancellor Crown University, USA, Prof Sir Bashiru Aremu has lauded Prof Dr. K Mahammad Rafi on hardwork as CUICI, USA-Indian constituents campus of the global researched recognized University bags ISO's , International Standard Organization's Certification.
The media learnt this today being Monday, July 25, 2023 from World Acclaimed Distinguished research Universities Professor Sir Bashiru Aremu in a press statement personally signed by him, which was made available to some group of Journalists in Asaba, Delta State capital by his Executive Assistance On Media, Publicity and Communication Matters, Comrade Sir Bieni Victor Emenike as UNESCO Laureate commends Prof Dr. K. Mahammad Rafi, the institution's global Online Campus Director.
UNESCO Laureate has applauded the hardwork as shown by the leadership of Crown University in India as institution bags ISO Certification. The statement in document reads in parts:"This is to certify that Crown University International Chartered Inc., USA, Indian Online Campus office has met Quality compliance certification in India. The institution is in compliant with the requirements of the standard detailed below:
ISO 9001:2015 (Quality Management System) for the following scope of activities: Providing Research, Innovation & Educational services. On this day, 19-07-2023, the institution is certified with Certification Number: QCCI/23Q/CNC/2586 as part of quality compliance certification in India".
"This was assessed by QCCI LLP, an independent Quality Management System, product and personal assessment body accredited by United Accreditation Centre towards the fulfillment of the Crown University Intl Chartered Inc.'s vision and mission of providing Global, international Quality higher education". Crown University VC, Prof Sir Bashiru Aremu in a statement Reacting to the development on the institution's recognition by International Standard Organization, ISO in India Commended the hardwork, efforts of the leadership of Indian Constituents Global Online Campus led by Prof Dr. K. Mahammad Rafi on great accomplishments as he stated the importance of ISO Certification number to Crown University International Chartered Inc., USA and other partners Constituents Global campuses worldwide.
The statement by VC CUICI, USA reads in parts: "I, UNESCO Laureate and CUICI VC commend Prof Dr. K. Mahammad Rafi and the entire management of our great University in India. ISO 9001:2015 certification is Internationally recognized and serves as an assurance to stakeholders, including Students, parents, faculty, staff and regulatory bodies. By achieving this standard, we have achieved the processes of continuous improvement and overall enhancement in quality, a process based approach, customer-centric approach amongst other benefits".
"The Crown University International Chartered in Inc. USA is a global recognized private research university which offers professional vocational training and higher education. It serves as an autonomous global recognized university, offering education and practical skill in the courses taught at its official partner's constituents campuses at government regulated universities worldwide and online operation".
"Crown University International Chartered Incorporated Inc. in USA which is teaching and research hospital campuses is located in Santa Cruz Province in Argentina Brazil South America Spain with official partner constituents campuses at government regulated Universities world wide and online operation was founded in 2011.
Crown University International Chartered Inc., USA Entity is duly incorporated under the International Laws of 1704,1776 and 1787 in United States of America with chartered file number: 7594662 as a worldwide recognized teaching and research university with International Trade Mark registered of logo with an international trademark order of receipt number: 668383, Customer number:270163 in United States of America".