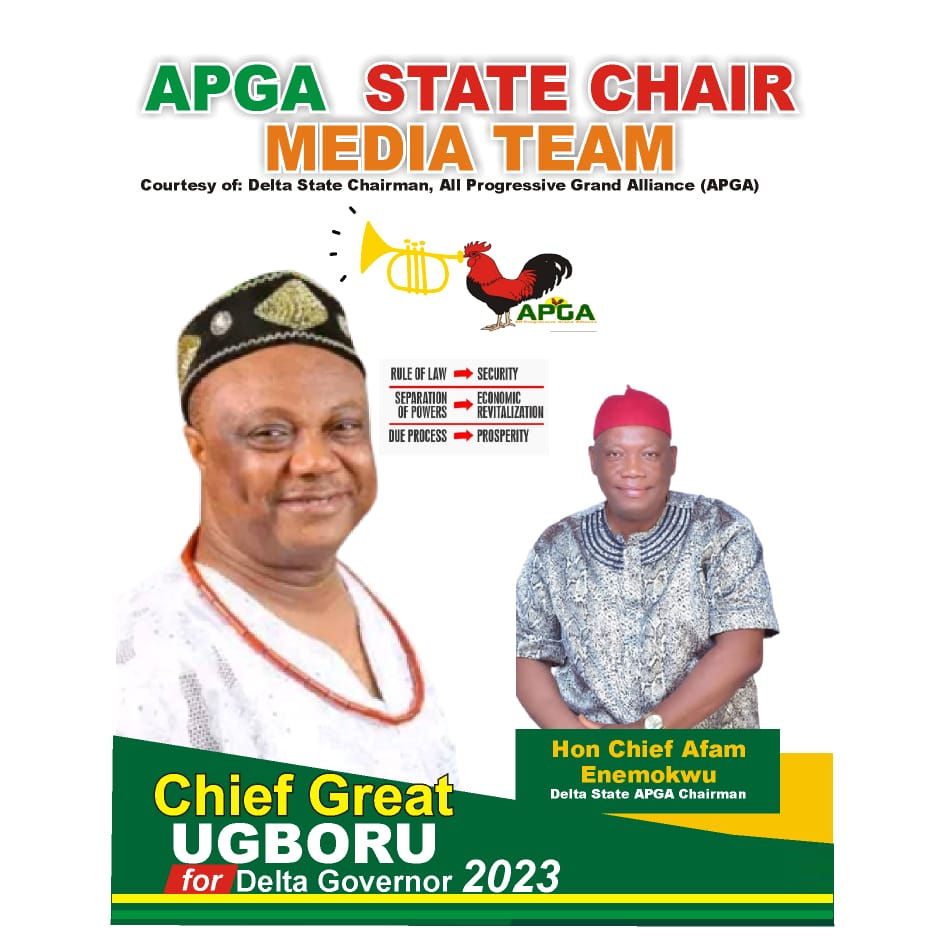 ….As State Chairman, Hon. Afam Enemokwu, Urges Party Members To Be Focus And Remain Calm, Enjoins Deltans To Join Party.
… As Comrade Okproma Joseph Confirmed Self As APGA Faithful, Says He Is Still Delta APGA Scribe
By Victor Bieni, Asaba
The Leadership of All Progressive Grand Alliance (APGA) led by its State Chairman, Hon. Afam Enemokwu has warn detractors, urges members remain calm and be focus in Winning the up coming general elections in Delta State as party refutes, debunks rumour on alleged decamping of APGA's Delta State Secretary, Comrade Okproma Joseph to the rulling Peoples Democratic Party PDP in Delta State.
The media learnt this today being on Monday, 25th day of July, 2022 in a press Statement by the Delta State Chairman of All Progressive Grand Alliance (APGA), Hon. Chief Afam Enemokwu, which made available to some group of Journalists by the party's scribe, Comrade Okproma Joseph in Asaba, Delta State capital as party stated that the false propaganda on alleged decamping of its scribe to Delta PDP is false rumour, fake news.
APGA leadership has come to the defence of its scribe on alleged decamping to PDP, a propaganda; false rumour, fake news which according to the APGA Delta State Chairman said emanated from impostors during recent PDP mega rally campaign ground held at Ozoro in Isoko Nation by the rulling Peoples Democratic Party (PDP) in Delta State.
The Statement by Delta APGA leadership reads in parts: "APGA Delta State hereby stand to debunk the fake, unfounded and false news being propagated and peddled by detractors that Delta State APGA Secretary, has decamped to The Peoples Democratic Party (PDP)".
" This news is fake and it emanated from PDP campaign rally ground at Isoko. The imposters spreading the false rumour are not known to APGA. These are imposters that are afraid of the silence of APGA in the activities of the forth coming 2023 general election".
"It is their strategy to distract APGA faithfulls. Let it be known to all Sundries that, the Delta State APGA Secretary Comrade Okproma Joseph did not defect to PDP. He remains the unshakable State Secretary, working neck deep with the
indefatigable State Chairman, Hon. Afamefune Enemokwu strategizing on APGA towards clinching victory, winning Delta State come 2023″.
"All APGA faithfuls should be rest assured that the echelon of APGA in Delta State is intact, no faction, no deflection. APGA is a movement and that we stand. We should all remain steadfast, strong , focused and be firm in all deliberations and strategizing on winning the elections with Chief Ovedje Ogboru as the Delta next Delta State Governor".
" All APGA doors are open to all others to join APGA, the good people for the benefits of all DELTANS and nation at large. Let us be our brothers and sisters keeper".