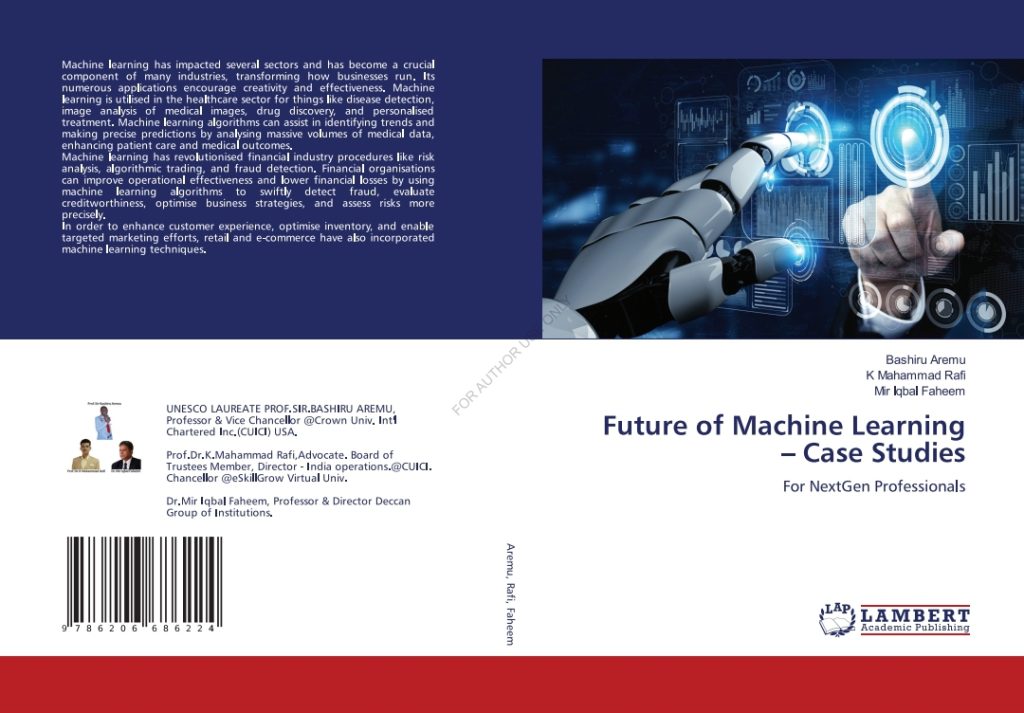 …..Aremu Co-authors Book On Contemporary IT, To Be Sold In Amazon.com, inc.
…..UNESCO Laureate,The Principal Author Says, Machine Learning Helps To Promote Creativity, Promote Productivity In Economic Sectors.
…. VC CUICI , USA Commends Prof Dr. K. Mahammad Rafi, Prof Mir Iqbal Faheem As Co-authors In Contemporary IT Book,
Which is available online through the official website at amazon.com under this link for those who want to buy at: https://www.morebooks.de/shop-ui/shop/product/9786206686224
Titled: Future of Machine Learning – Case Studies
For NextGen Professionals,
With ISBN Number:978-620-6-68622-4
Book language:
English
Published on
2023-07-06,
Publishing house
LAP LAMBERT Academic Publishing,
Number of pages
320,
Price (EUR )
€96.90, Price (US dollars)$105.62
By Victor Bieni, Asaba
Prof Sir Bashiru Aremu, UNESCO Laureate and World Acclaimed Distinguished Universities Research Professor of Computer Science, information Communication Technology, has co-authored a book on contemporary Information Technology (IT) called: "Future of Machine Learning" while commending other co-authors, Prof Dr. K. Mahammad Rafi & Prof Mir Iqbal Faheem on roles as he stated that the knowledge of machine learning will help future generations in promotion of needed creativity and productivity in every economic sectors towards socio-economic and sustainable IT development globally.
VC CUICI, USA made this disclosure today being Monday, August 7, 2023 in a telephone conversation with our reporter as he stated that the contemporary book on Information Technology, IT as authored by him and other two world-class ICT Professors who are also founders of world-class Universities will be sold Amazon online, world's most notable book publisher.
Amason.com, Inc , UK is an American Multinational Technology Company with focus on e-commerce, cloud computing, online advertising, digital streaming and artificial intelligence. Amazon is one of the world's most influential cultural and Economic forces and brands. Amason is considered one of the biggest five American Technology Companies alongside Alphabet (parent company of Google), Apple, Meta ( formerly Facebook Inc., and Microsoft.
UNESCO Laureate and Crown University's VC when asked to summarize the content of the book as co-authored by him and other world renowned IT Professors stated, "the book 'Future of Machine Learning-Case Studies for Next Generation of Professionals', has to do with machine learning as it has impacted several sectors and has become a crucial component of many industries, transforming how businesses run".
"Its numerous applications encourage creativity and effectiveness. Machine learning is utilized in the healthcare sector for things like disease detection, image analysis of medical images, drug discovery, and personalized treatment. Machine learning algorithms can assist in identifying trends and making precise predictions by analysing massive volumes of medical data, enhancing patient care and medical outcomes".
"Machine learning has revolutionised financial industry procedures like risk analysis, algorithmic trading, and fraud detection. Financial organisations can improve operational effectiveness and lower financial losses by using machine learning algorithms to swiftly detect fraud, evaluate creditworthiness, optimise business strategies, and assess risks more precisely. In order to enhance customer experience, optimise inventory, and enable targeted marketing efforts, retail and e-commerce have also incorporated machine learning techniques".
CUICI, USA VC, Prof Aemu, Tlhe co-author of the book: "Future of Machine Learning- Case Studies of Next Generation of Professionals during the interview unveiled his other profile as he quoted: "VC, CUICI, USA is Most Academy Excellent World Acclaimed Distinguished Professor Emeritus (On merit, honored and ranked) ratified by UNESCO Center Central and South America with Reg. Number: Arg 22/Lt-19 and published with ISBN978-1571-7412 Top up by UNN Nigeria, CSER Malasia, MPRH Institute, Iran, WCU, USA, CIDVU, NIU, Canada and USA, UN ECOSOC, Geneva, Switzerland, ICERE, Argentina, South America and others worldwide. UNESCO Laureate is a recipient of different global award and certificate of Recognition. Also, a Fellow of different International Organizations. He has Post-Doctoral E-business, Grand Ph.D, Post-Doc, D.Sc, Ph.D, B.Sc, B.Tech, IBD, FIBTMN, FATIIC, MACM, MCSTA, MSTAN, Snr. MIACSIT, FIASR,C.itp, MCPN, MNDKOJC, CEMA, FBCS, England, KOJ, KOGC, KOGAL, FCIEMA, FIICEP, LFCWIEB and others to mention but a few".
"CUICI VC, H.RH Duke of the Kingdom of Atlantis in Singapore, Prof Sir Bashiru Aremu is the World Grand President, International Chartered World Learned Society (ICWLS), he is the World Acclaimed Distinguished Universities Research Professor and Editorial Board Member, Cambridge Publishing, United Kingdom. He is known as World Acclaimed Distinguished Universities Research Professor of Computer Science, Information Communication Technology in different global and Nigerian Universities such as Novena University, Ogume, Delta State, Ambrose Ali University, Ekpoma, Edo State, Imo State University, Imo State, Kaduna State University, Gregory University, Uturu, Abia State".
"UNESCO Laureate is the Pioneer Member Board of Trustees of Minaret International University, Ikurun, Osun State, Nigeria to mention but a few. And other Global Universities such as West Coast University of Science, Technology & Arts, Bharat University, India. CUICI VC, is also a World Acclaimed Distinguished Universities Research Professor at Pradesh, Mandsaur, Mother Theresa Women University, India, World Congress of Arts, Sciences & Communication, as had served as Deputy Director-General for Africa And Research Professor at International Biographical Centre. Prof Aremu is cited in the World recognized publications by Famous Marquis Who's is Who in the World".
VC CUICI, USA, Professor Emeritus Sir Bashiru Aremu reacted further as he Commended other two co-authors in the book who are wolrld renowned IT Professors, Prof Dr. K. Mahammad Rafi, Prof Mir Iqbal Rafeem on roles towards actualizing their dreams, accomplishing that tasks of contributing to global IT development for global excellence Socio-economic growth and societal development .