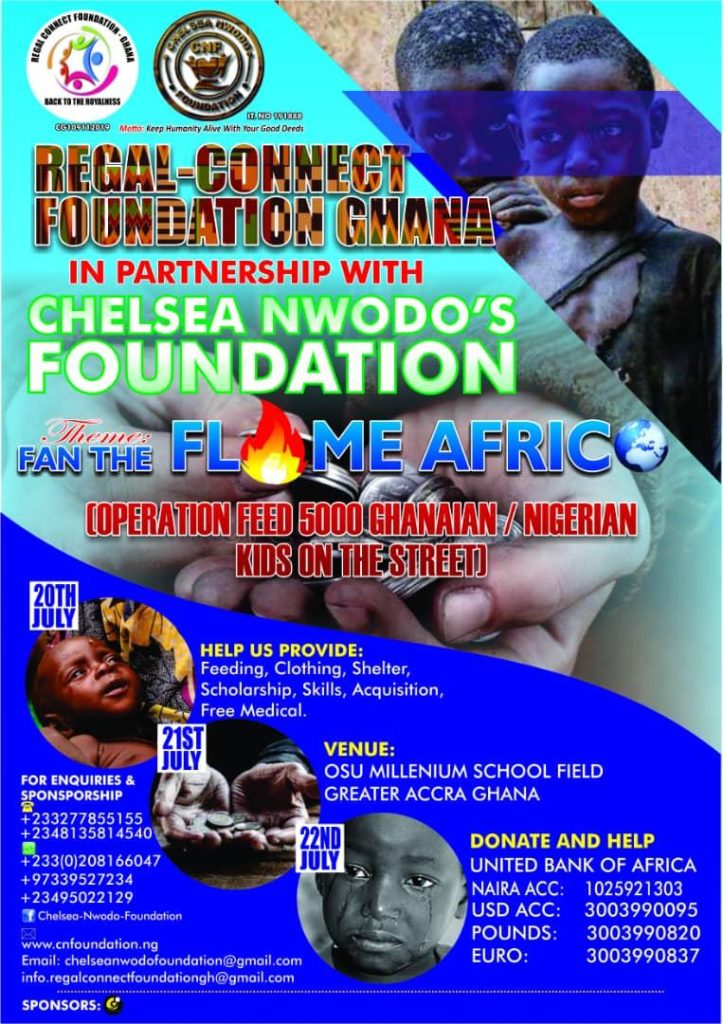 ….Chelsea Nwodo Foundation Partners Ghanaian NGO, Declares "Operation Feed 5000 Street Children
…….NGO Groups: Chelsea Nwodo Foundation-Nigeria & Regal Connect Foundation -Ghana Harped On Deepening Agenda 2030.
…..As Nigerian-Ghanaian NGO Partners For Children's Dignity, Right To Live Freely From Violence As Children Protection In Int'l Development Agenda
By Victor Bieni, Asaba
The Founder/CEO, Chelsea Nwodo Foundation, a development expert cum Actress & Nollywood Producer, Director, Chelsea Chika Raphael Nwodo has, her NGO recently partnered a Ghanaian NGO called: Regal Connect Foundation -Ghana as group declares: "Operation Feed 5000 Nigerian & Ghanaian street kids" to foster children protection in international development.
The seasoned Nollywood cum Producer made this known to newsmen today at her NGOs office in Asaba, Delta State capital while fielding questions from Journalists spoke on the essence of the program.
She noted further that, Chelsea Nwodo Foundation-Nigeria in partnership with Regal Connect Foundation-Ghana will host the event to be anchored on the theme: "Fan The Flame Africa: Operation Feed 5000 Ghanaian-Nigerian Street Kids" as event is set to take place on July 20th to 22nd, 2023 at OSU Millennium School Field, Great Accra, Ghana aimed at bringing together both less-privileged Ghanaian and Nigerian children to feed, cloth, give them shelter, train and equip them with skills to survive in the society.
Regal Connect Foundation-Ghana is a registered NGO in Ghana in line with Companies Act 1963
(Act 179) to provide humanitarian interventions, services, training and skill acquisition, outreaches and donations. Chelsea Nwodo Foundation-Nigeria is a duly registered NGO with corporate Affairs Commission whose aims and objectives are to provide social, educational and economic empowerment to women and children- especially disadvantaged and children suffering from ill-health in the society.
She noted that children are affected by all SDGs. According to her, SDG 10 supports protection for children with physical and mental disabilities as part of efforts towards reducing child abuse, exploitation, trafficking and promote freedom from violence as a priority in the international development agenda. She used medium to appeal to other development partners to give their supports in the areas such as: feeding, clothing, shelter, free medicals, skill acquisition and scholarships.
The Founder/CEO of Chelsea Nwodo Foundation, Chelsea Chika Raphael Nwodo therefore reiterated her commitment to the welfare and protection of children in Nigeria, Africa and the rest of the world.
According to her, "our reputable Non-governmental Organization working in the thematic areas of empowering the vulnerable and disadvantaged Children, Women, Youths to promote, protect and guide their health, vocational, legal, socio-economic, educational rights in the society with the motto: "Keep Humanity Alive With Your Good Deeds" has will continue to support humanity, which is the best way to live on earth".
Chelsea Chika Raphael Nwodo is a development advocate who has over the years impacted positively on humanity. Chelsea Chika Raphael Nwodo is the National Deputy Secretary, Actors Guild of Nigeria (AGN), a philanthropist to the core, a Movie producer/ Filmaker of global repute. Chelsea Chika Raphael Nwodo is an IMT graduate, a seasoned Nollywood Actress and the CEO of CHELSEA NWODO FOUNDATION.