…. As Comrade Nyemike Ukwadinachi Speaks, Gives Young African Leaders Strategies To Achieve UN+SDGs.
….. Urges African Leaders To Adopt DTSG Youths' "Wealth & Job Creation Model", Drums Support For Atiku/Okowa 2023 Presidency For Lasting Peace, Unity And Prosperity of All Nigerians.
By Victor Bieni, Asaba
As part of efforts towards building a sustainable economy in African Continent that is in line with best global practices on Youth development; create excellent young personalities, promote an enabling environment for stronger advocacy, create opportunities for African Youths entrepreneurship growth and development, Job and wealth creation sustenance, mitigation of insecurity, war and civil unrest, crimes and other social ills in Africa, the Special Assistant to Governor Ifeanyi Okowa, On Youth Development, and Co-founder, Generation Okowa Foundation, Comrade Nyemike Ukwadinachi has called for global partnership, while enjoining Young African Leaders to adopt Delta State Government's "Youths Job and Wealth Creation Model" for the achievement of United Nations Sustainable Development Goals (SDGs), or agenda 2030 and development of African continent.
Governor Okowa's Aide, Comrade Nyemike Ukwadinachi made this remark today being Saturday, 6th day of August, 2022 while briefing some group of Journalists in Asaba, Delta State capital on the outcome of his participation and a reflection of his speech at the West Africa Young Leaders Summit and Award held on Friday 29th July 2022 at the Mikkado Event Center, Laborne Junction/Accra ring road, Greater Accra Region of Ghana as he advocated for the advancement of African Youths and implementation of UN+SDGs in African continent.
Co-founder, Generations Okowa Foundations restated Commitment towards global partnership for greater and more opportunities for youths, in advancing their life to excell and improving the societies at large in the 2022 edition of the West African Young Leaders Summit and Award, which was tagged "ACCRA 2022" with the theme "Raising A New Generation of Passionate Young African Leaders" with a special focuse on creating ideas, solutions and strategies to implement the Sustainable Development Goals (SDGs) for advancing the African Youths.
The globally acclaimed African Youth Leader stated that, the keynote speakers at the summit were: His Excellency Mr. Aliyu Massauuoi Liberian Ambassador to Ghana, Nigerian High Commissioner to Ghana His Excellency Vice Admiral Ibok- Ete Ekwe Ibas (retd) represented by the Minister the Charge D'Affairs, Nigeria High Commission Ghana, Mrs Esther Arewa. Others are Mrs. Delese Mimi Darko Director General Ghana Food and Drug Authority, His Royal Highness Oba Dr. Mayowa Olajide Jose of Yoruba Community Ghana and DCOP Dennis Abade, Commissioner and Commander of Accra Region Police Ghana.
Comrade Nyemike Ukwadinachi has stated that, during the event while presenting his speech at the summit, he cited so many challenges faced by the less-privileged African Youths, which he said are major barriers towards achieving positive goals. According to him, these setbacks are: Bad leadership, war and civil unrest, crime and insecurity, lack of enabling environment, and other undermining factors that mitigate against the Greater good of the African youth as well as the development of the Continent. Comrade Nyemike Ukwadinachi reiterated the need for overall partnership of both Government and Private bodies in creating solutions and enabling environment for youths to thrive, advocating for greater access to opportunities for youths to achieve and bring about prosperity for the African continent.
He used the opportunity to adminish African Leaders during the summit to adopt Governor Ifeanyi Okowa's, model on human capital development called "Youths Job and Wealth Creation Model", which said bothers on Youths skills acquisition, Agriculture, vocational and Technical Education Initiative and empowerment of Young people in Delta State, which he said is a new trend and timely solutions the Governor used for positive engagement of Youths in the State as well as a means to curtail youth restiveness, retain peace and create wealth among young people of Delta state.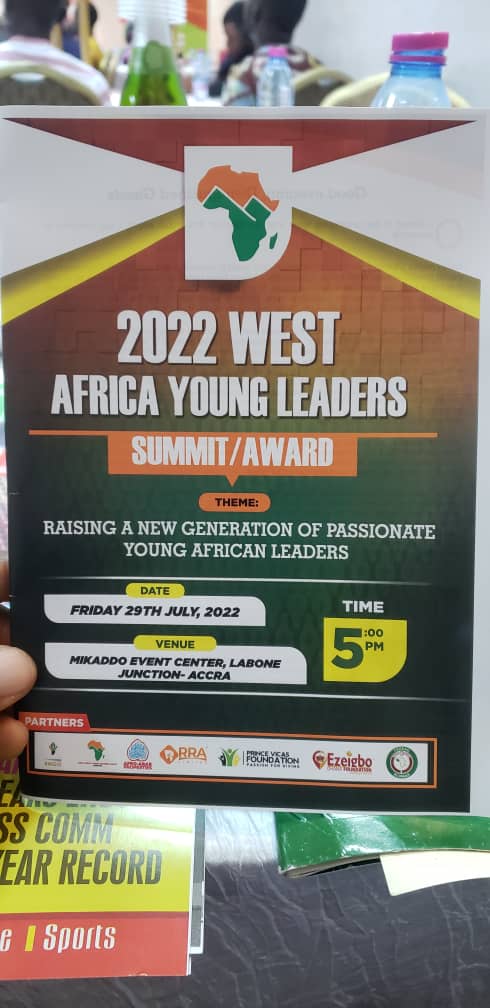 In The words of the Governor's Aide: "The Youth Empowerment Programs And Schemes of the Delta State Government
includes: Skills Training and Enterpreneurship Program (STEP), Youth Agricultural Empowerment Program (YAGEP), Rural Youth Skills Acquisition (RYSA), Girl Child Empowerment and Skills Training (Project GEST), Youth Empowerment through ICT (ICT-YEP), and others to mention but a few. His Excellency, The Executive Governor of Delta State, Send. Dr. Arthur Ifeanyi Okowa, has empowered over 500,000 Delta Youths directly and indirectly through the State's 'Job And Wealth Creation Office' as multiplier effect to boost Youths' entrepreneurship growth and development in Delta State and Nigeria in general".
"The Summit highly featured presentation of award of service to humanity and induction to hall of fame which was conferred to excellent personalities who has distinguished themselves in areas of developing and advancing youths in Africa and globally. After the event, i had a meeting with selected Nigerian youth bodies in Ghana with the agenda centered on gaining support of the Nigerian youths in Ghana and others in diaspora to work for the success of Alhaji Atiku Abubakar and Sen. Dr. Ifeanyi Okowa Presidency come 2023 in Nigeria to restore peace and unity in our country, build a sustainable economy and growth pattern, and actualize the Greater Nigerian Project that we so much desire."