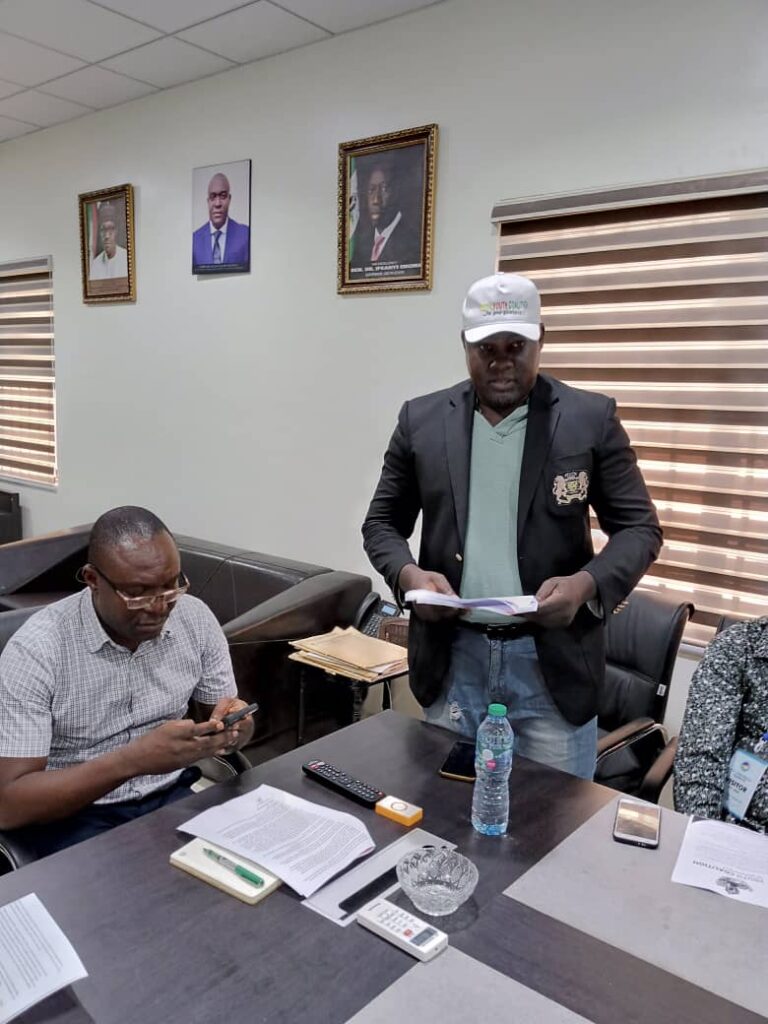 ……Your Support To DTSG Is Very Glaring, Egwunyenga Tells DYC Leadership
….DYC Leadership Partners DSGT For Youth Development, Sets To Empower Over 400 Youths On Skill Acquisition.
……As Group Tips Delta Youth Commissioner For African Delta Model Awards 2022.
By Victor Bieni, Asaba
Delta State Commissioner For Youth Development, Hon. Ifeanyi Egwunyenga has commended the leadership of Delta Youth Coalition (DYC) on the group's past and present commitment to grassroots Sensitization of Deltans on Registration and collection of Permanent Voters Cards (PVCs), relentless support to PDP administration led by Delta State Governor Ifeanyi Okowa towards the promotion of good governance and fulfilment of the State Government's stronger Delta agenda policy.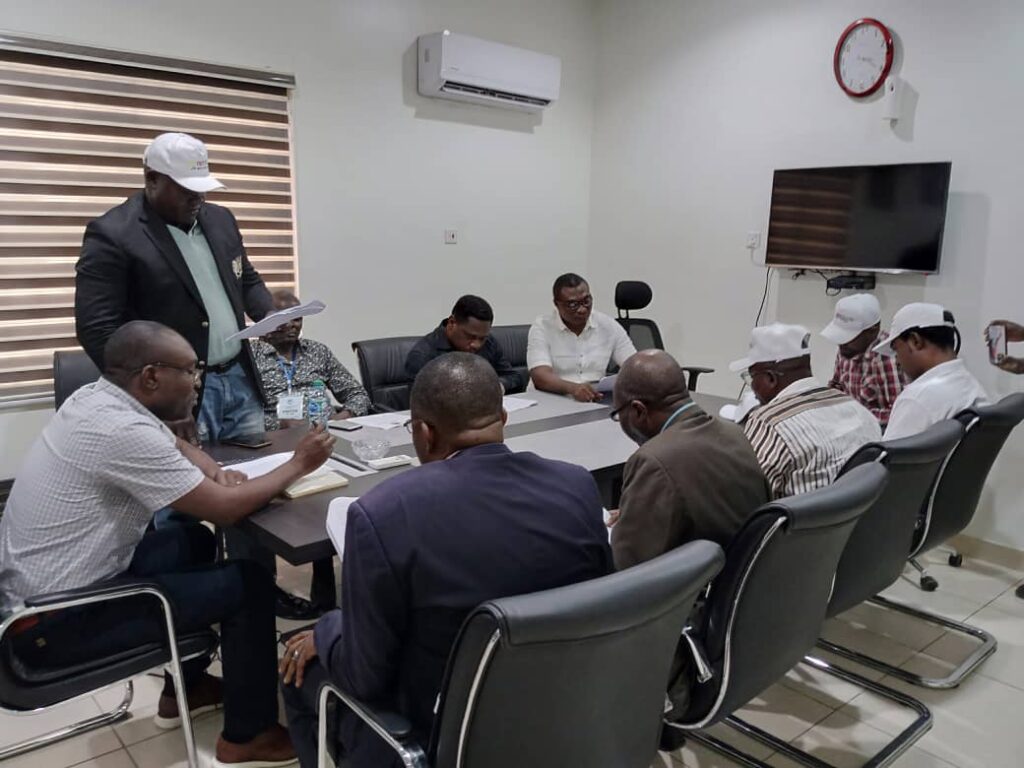 Delta State Commissioner For Youths Development made this remark in his office earlier this week being on Wednesday, 14th Day of September, 2022 during a courtesy visit by the leadership of Delta Youth Coalition (DYC) led by its President-General, Comrade Chibuzor Agunwa (A.k.a Mr. Dash) as group tips Egwunyenga for African Delta Model Awards 2022.
Delta Youth Coalition (DYC), a foremost political pressure group in Delta State with over 40,000 members; structures in the three Senatorial Districts, 25 LGAs, entire wards and polling units in the State. DYC is a grassroots Youth group that has been in the forefront of launching Campaign for PVCs in all Delta Communities; massive Sensitization of Deltans on the need to join the State Government in the promotion of good governance; and the need to support the Atiku/Okowa, Oborevwori/ Onyeme 2023 Projects; advocacy on the need for effective and efficient Youth Empowerment and support for the less-privileged citizens.
The president-General of the group while presenting a speech on behalf of DYC leadership during the visit to the Youth Commissioner, Commended Delta Youth Commissioner for his exemplary Leadership in the promotion of Youth development in the State as DYC Boss highlighted some of group's aims and objectives, mission and vision which included amongst others: Promote Peace and harmony amongst citizens; enhance communication, Promote political activities by helping Candidates to win elections in Delta, Nigeria; and initiate Programs for Youth development, empowerment, to create technical innovation to build local strength, partnership with critical stakeholders to bring the dividends of democracy to the grassroots populace, and so many others to mention but a few.
DYC Boss, Comrade Chibuzor Agunwa (A.k.a Mr. Dash) stated that the group will continue to support Delta State Government towards the promotion of good governance for the benefits of the citizenry and rural development to finish strong having accomplished great achievements in the areas of Infrastructures, Education, Agriculture, Youth Development and other Critical Sectors of this economy. The group also restated its Commitment to mobilization of Deltans, Nigerians to give their support to Atiku/Okowa, Oborevwori/Onyeme 2023 Projects.
Agunwa stated that DYC has purchased, branded vehicles for the task ahead of it and had accomplished various feats in its sensitization and mobilization efforts of reaching the grassroots populace, while he extolled the good qualities of Hon. Ifeanyi Egwunyenga as Delta Commissioner for Youths.
He equally used the medium to convey the group's message that the Commissioner has been tipped as one of the Awardees to bag DYC's upcoming event Award Nights tagged: "AFRICAN DELTA MODEL AWARD 2022", while promising to intimate the Youth Commissioner on the date of the event, he said will be an avenue for Delta Youths to showcase their talents. DYC Boss also commended Governor Ifeanyi Okowa, Delta Youth Commissioner, Hon Ifeanyi Egwunyenga for their various Youths Empowerment programs that has helped young people in the State to acquire various skills to curb the problem of unemployment in Nigeria.
He added that, DYC will be unfolding its Youth Development programs on skills Acquisition as it intends to partner with Delta State Government to Empowerment over 400 Youths; 20 persons in each LGAs with cash and Starter-packs to complement the efforts of the State Government on Youth Development. In the words of DYC Boss, Mr. Dash: " Those trained at the long run shall train others at instance. Areas the Youths will be trained includes: Digital marketing, Photography, Catering, Electrical and Electronics Engineering, Beverage production, agro-feed production, mechanical engineering, Human Resource Management and others Skills".
The Youth Commissioner who responded to the speech by DYC Boss thanked the leadership for the timely visit to his office as he urged them to remain committed to their aims and objectives, vision and mission statements of the Organization so as to help mobilizing Deltans massively towards PVCs collection. He also enjoined them not to relent in their support to Atiku/ Okowa, Oborevwori/Onyeme 2023 projects.
Egwunyenga while stating the need for Deltans, Nigerians to embrace the emergence of Governor Ifeanyi Okowa as PDP's Vice Presidential Candidate, commended the Governor's huge developmental strides in all critical Sectors, especially in the Youths Development Sector where he said is driving Governor Ifeanyi Okowa's vision as he admonished DYC Leadership to show more capacity, conviction and continue in their usual support to Delta State Government led Governor Ifeanyi Okowa.
He noted that Givernor Ifeanyi Okowa is a man of integrity, articulate, Strategic and unique, astute political leader that is always aware of Commitments, sacrifices made by individuals and groups towards the promotion of sustainable development of the State, that every group working for his Success must be rewarded as he gave testimonies of how he rose from the position of SSA on Youth Development to a Youth Commissioner in the State, while he stated areas, various Delta State Government interventions on grassroots Youth Skills acquisition Programs and other categories of Youth Development in his time as Youth Commissioner.
Egwunyenga promised to partner strongly with the group on Youth Development Projects by bringing those Youths so trained by DYC to Benefit from the Delta State Government Starter-packs for those trained on skill acquisition Programs.
Chuks Okoh, DYC's Publicity Secretary gave a vote of thanks at the closing of the event, commended the Delta State Commissioner for Youth Development, Staff for partnering with DYC for sustainable development of Delta State.