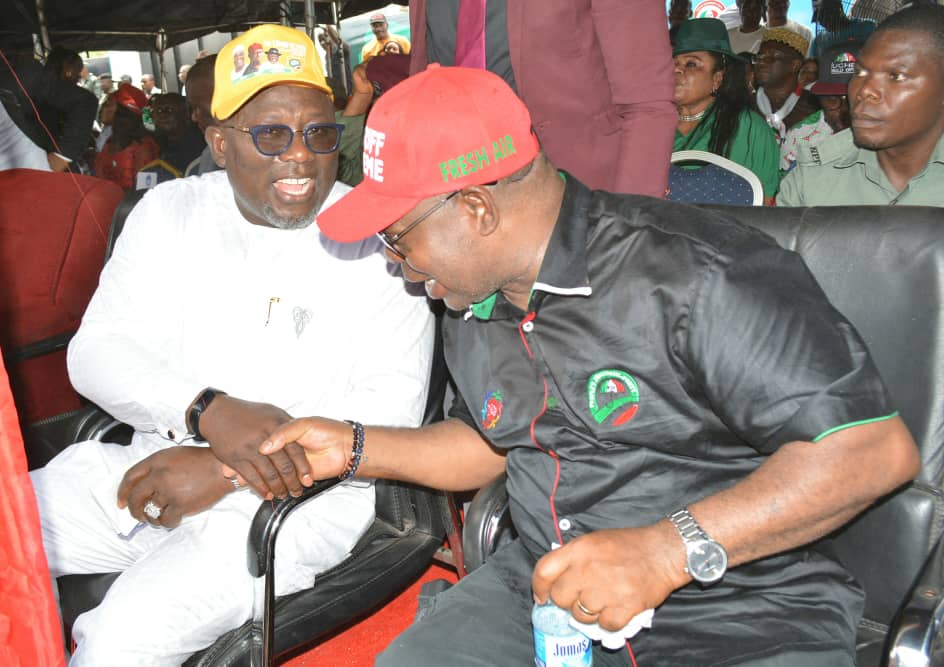 ………2023: Oborevwori Assures Deltans of Consolidating On Gov Okowa's Development Strides.
…As Gov. Okowa Urges Deltans To Reject APC In Delta Come 2023 General Elections.
…As Delta PDP Inaugurates Campaign Council in Asaba
By Victor Bieni, Asaba
As part of efforts to Kick-start Campaign by Political Parties with Candidates vying for different elective positions, the leadership of Peoples Democratic Party (PDP), Delta State Chapter has inaugurated its Campaign Council in the State as thousands of its members that made the lists attended enmass the Inaugural ceremony in Asaba today.
The media learnt on 3rd November, 2022 at the State PDP Campaign Secretariat located at Anwai Road by Temple Clinic, Asaba Delta State capital as the Party's Governorship Candidate, Rt. Hon. Sheriff Oborevwori, Deputy Governorship Candidate, Sir Monday Onyeme, Youths, Women, party faithfuls, PDP members, and other Dignitaries maintains Enthusiasm, hopes of emerging victorious in the forthcoming general elections in Delta State, and Nigeria in general.
Delta PDP Guber Candidate, and the Speaker of Delta State House of Assembly, Rt. Hon. Sheriff Oborevwori has assured Deltans of consolidating on Governor Ifeanyi Okowa's developmental strides as he appealed to the electorates to vote for him in the forthcoming 2023 general elections in Delta State.
Oborevwori while urging Deltans to reject APC in Delta and at Presidency, work for the victory of PDP Candidates at all levels stated that, he is a selfless Guber candidate, whose tenure would not be abused if voted into power come 2023. Oborevwori noted further that, if voted into power that he would not exhibit any form of undemocratic behaviour or utterances that would plunge the State into political instability rather that he would allow democracy and its dividends to be the only pay back for all Deltans.
Speaking prior to Oborevwori's speech at the event Delta state Governor Ifeanyi Okowa and the 2023 vice presidential candidate of the Peoples Democratic Party (PDP) has urged Nigerians to reject the All Progressives Congress (APC) next year 2023 to had plunged the country on the path of retrogression since 2015.
In his words: "Our party PDP will aggressively engage the electorates from units to wards levels on the need to oust APC in 2023. The economic situation in the country has failed the propaganda machine of APC".
He said, "APC took Nigeria to trouble times and done a sufficient damage to its economy. The chieftains of the party easily give to lies that we are not doing anything in Delta. We will continue to pray for the blind in APC, who on daily basis are progressing in error, to see."
" Delta State Government urban renewal, infrastructural, drainage system, health and educational pursuit since 2015 have spoken volume about his preparedness to join forces with his principal, Alhaji Atiku Abubakar, to rescue Nigeria from the current economic quagmire", Gov. Okowa stated.
He urged eligible voters, especially in Delta state, to reject APC during the general elections in 2023, to show appreciation to PDP for considering him worthy of the vice presidential slot.