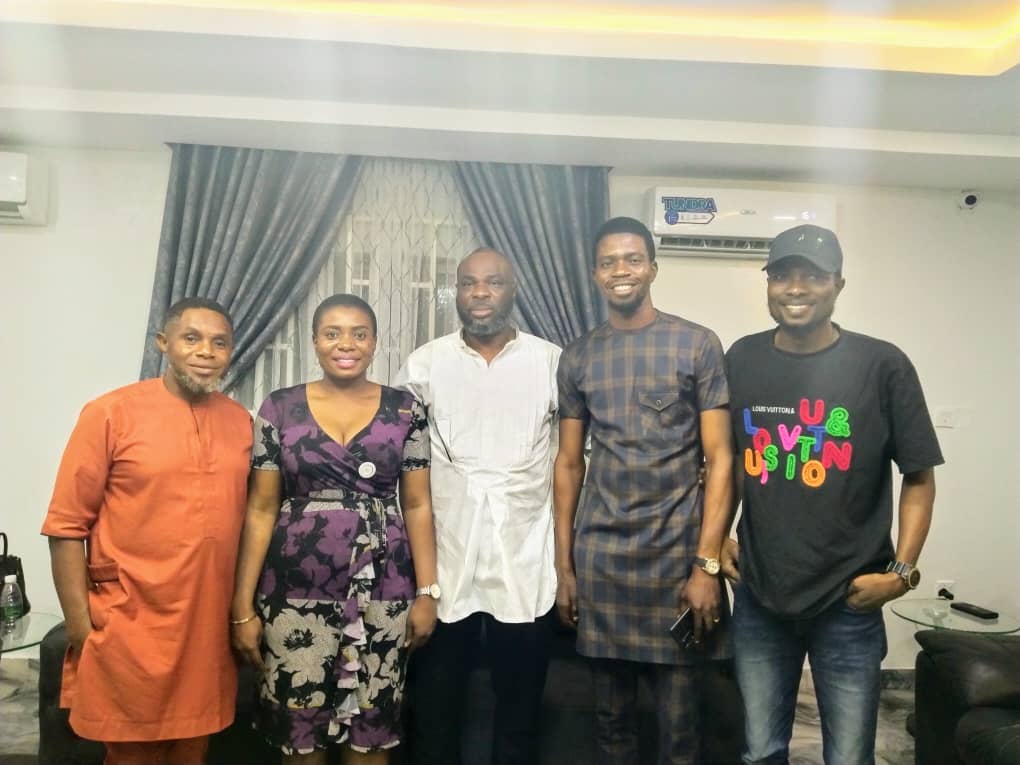 ….2023: Joel Onowakpo, APC Senatorial Candidate Meets With CSOs In Delta South
…..As Delta South Coalition Leader, Comr. Ayovuata Tasks Delta South APC Senatorial Candidate On Good Governance.
..Delta South CSOs Pledges Support For Onowakpo For Senate, Attests To His Competency.
By Victor Bieni, Asaba
The Delta South Civil Society Coalition led by Comrade Ayovuata Courage Uyoyou, has tasked The All Progressive Congress, APC 2023 Candidate for Delta South Senatorial District, Hon. Joel-Onowakpo Thomas to ensure that he promotes good governance if elected to represent the good people of Delta South Senatorial District in this year's general elections in Delta State and Nigeria in general.
Our reporter learnt this today being Thursday, February 9, 2023 from Comrade Ayovuata Courage Uyoyou in a statement which contains the outcome of the CSOs group's visit to the APC 2023 Delta South Senatorial Candidate, Hon. Joel-Onowakpo Thomas as he promises to promulgate laws that will positively impact his Senatorial District, Delta State and Nigeria at large if elected.
The roles of Civil Society Organizations amongst others are: To ensure good governance, monitor Government policies and actions, hold government accountable, etc. Comrade Ayovuata Courage Uyoyou and other members of the group during the meeting had tasked Hon. Joel-Onowakpo Thomas on laws, viable policies that will promote good governance , women empowerment ,youth empowerment, stoppage of oil spillage by oil companies amongst other requests.
In the statement, she noted down some critical issues and some questions thrown to Hon Joel-Onowakpo Thomas during the meeting such as Oil Spillage by oil companies, good governance and others. According to Ayovuata, "Politicians fulfilling their promises to citizens in line with their political manifestos will show that they are not working contrary to the social contract they have with the people".
Delta South CSOs group then used the medium to pledge support to Hon. Joel-Onowakpo Thomas while attesting to his past performances as the Executive Chairman, Delta State Board of Internal Revenue between (2009-2015). The group stated: "We will give Hon. Joel-Onowakpo Thomas the needed support from Civil Society perspective judging from his good records, character, competence, and educational qualification".
According to Delta South CSOs Coalition Leader, during the meeting, the APC 2023 Delta South Senatorial Candidate, Hon. Joel-Onowakpo Thomas has assured the leadership that, if elected as a Senator to represent his people this year, he would use his oversight functions to ensure that the laws made are fully implemented, efforced and give his people effective and efficient representation in the Senate.
Hon. Joel-Onowakpo Thomas also assured Delta South CSOs group that, if elected to represent the good people of Delta South at the Senate, he would ensure the right infrastructural development, Human capital development, Women and Youths empowerment and support to the less-privileged citizens to be put place . He also promised to handle the issue of oil spillage by holding Government and oil companies accountable to reduce the endemic problems of environmental degradation, its negative economic impact; diseases, climate change, ecological damage, loss of fishery and wildlife, gas flaring and others.
While speaking on his antecedents to give his people excellent performance at the Senate, Onowakpo reflected, flashed back at performance while serving as Chairman of the Delta State Board of Internal Revenue as he noted that he raised Delta State Revenue from less than 14.4 Billion Naira to 50.4 Billion Naira despite dwindling Federal Allocations then.
Hon. Joel-Onowakpo Thomas, also spoke on the issue which bothers on gas flaring, oil spillage as he promises to make and implement laws that will ensure that oil producing communities are not marginalized, Youths to channel their local talents to economic usefulness; among others